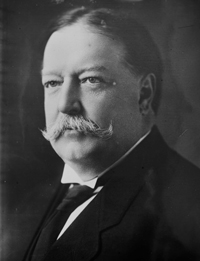 Although William Howard Taft did a respectable job as our nation's 27th President of the United States, most people today only recall that he was our heaviest President and a special bathtub had to be designed for him in the White House. Mostly that's because there was very little significant about his term from 1909-1913 – only a capable President maintaining the status quo in domestic and foreign policy. And he also admitted our last two states, New Mexico and Arizona, to the continental United States. Most of the excitement came at the end of his term…and beyond.
Although his predecessor Teddy Roosevelt had promoted Taft (who had been his Secretary of War) as his hand-picked successor to the Presidency, he later took issue to many of Taft's conservative actions and decided to run against him during the election of 1912. Roosevelt was defeated by Taft for the Republican nomination and so formed the Progressive "Bull Moose" party and ran on that ticket. This split the Republican vote and caused an enormous victory for the Democrats which ended up putting Woodrow Wilson into the White House. It was the only election in history to include a past, present, and future President.
And perhaps Taft's greatest achievement came eight years after leaving office when he became the 10th U.S. Chief Justice of the Supreme Court for the last nine years of his life, a position he held until just a month before his passing in 1930. He was the only President to ever hold both offices.
As a fellow Ohioan and big eater, William Howard Taft is a President close to my heart. So I took pleasure in twice visiting his birthplace in Cincinnati, and once seeing his grave in Virgina over the course of three separate road trips. Incidentally Taft's great-grandson Robert served as Governor of Ohio from 1999-2007 – and my sister Denise worked for him for two years as public inquiry assistant.
Saturday, August 22, 1998 / Sunday, August 3, 2008 – William Howard Taft birthplace – Bob, Lisa, and I visited the birth home of William Howard Taft in Cincinnati, Ohio during our 1998 road trip. Ten years later, Bob, Jackie, and I did the exact same thing. The house is rather distinctive, being both impressive in size and painted a rather garish yellow. Taft's parents Alphonso and Louise moved into the ten-year old house in 1851. The house would remain in the family until 1899, although the parents had departed in 1865 leaving the grown children to intermittently occupy the house, and then other tenants began renting it in 1889.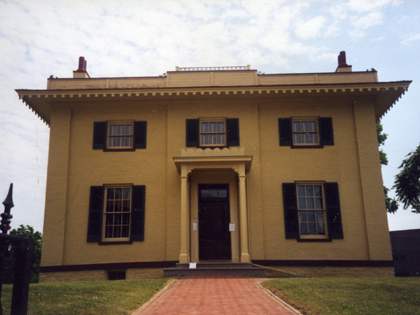 My photo of the house from 1998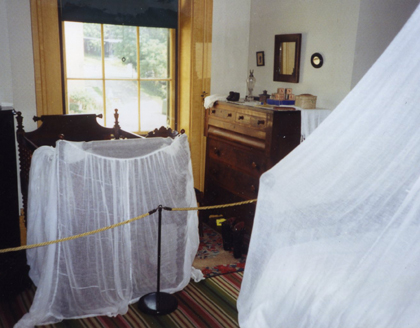 My photo of the probable birth room from 1998
It became a federal National Historic Site in 1963 following a thirty year movement to save the house from demolition. Some of the house has been restored back to the state in which it appeared during William's boyhood. Other portions of it serve as museum with educational displays and personal relics. Although none of the furniture is original, many of the paintings and books in the house were owned by the family.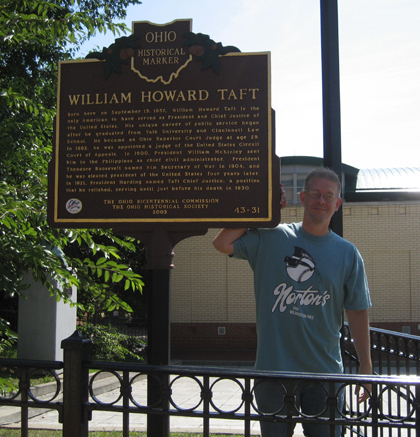 With the Ohio Historical Marker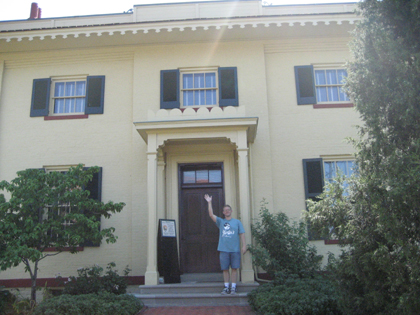 On Taft's front porch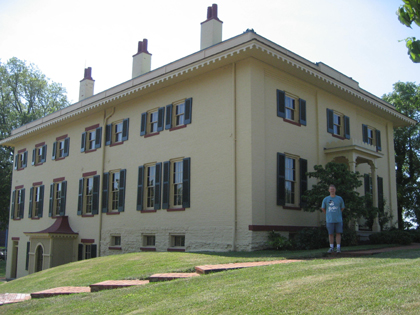 The house was quite large!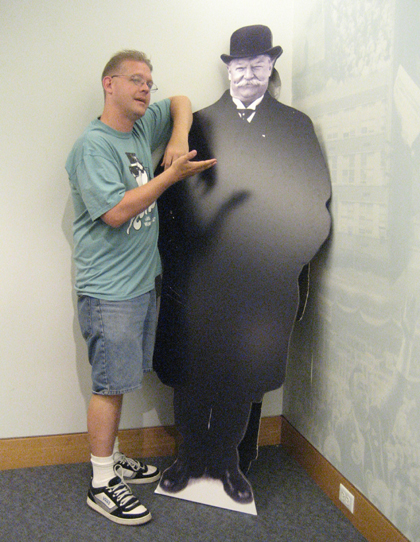 To the William Howard Taft birthsite or cardboard!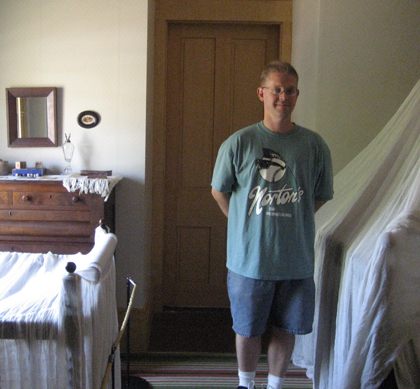 Likely room in which Taft was born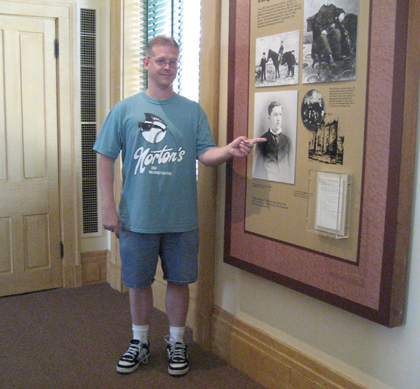 The less-likely (but possible) room in which Taft was born, not restored, but rather part of the informational display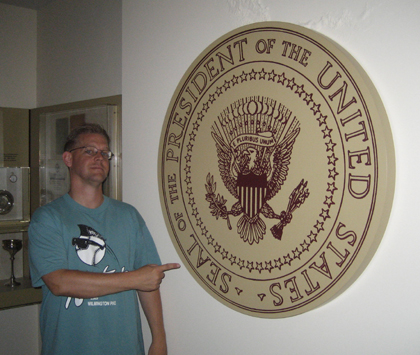 Yes, Mr. Taft, I like Presidents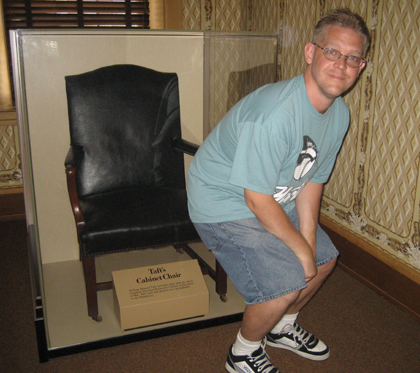 As Bob says, I assume the 'taking a dump' position to pose with Taft's original Cabinet Chair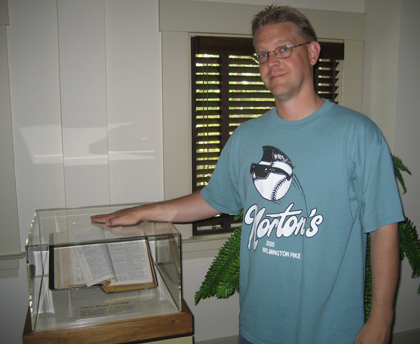 And the grand prize…the Bible on which Taft was sworn in as President of the United States
Saturday, August 22, 1998 / Sunday, August 3, 2008 – William Howard Taft home – Not terribly far from the birth home stands a house that served as the first dwelling of William Howard Taft and his new bride Nellie Herron. They moved into this home after their wedding in 1886 and remained here about fourteen years, before Taft's political career required that he move to Washington D.C. The house is privately owned and not open to the public.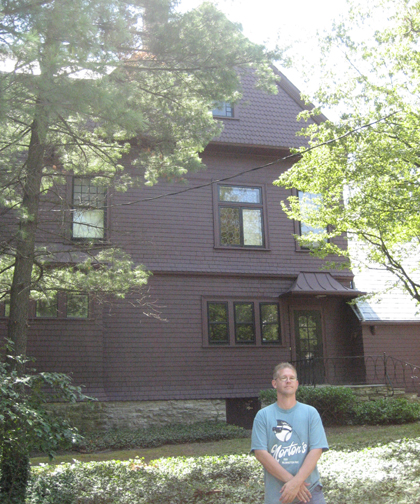 The President's former home, known as 'The Quarry', located on East McMillan Street in Cincinnati
Tuesday, July 10, 2012 – The Hotel Taft – The hotel that opened in New Haven, Connecticut  in 1912 was actually named after one of its investors. It became famous for many reasons, among them the fact that many movie stars of the day stayed there when making personal appearances at the next-door Schubert Theatre. It can also be seen in three Hollywood movies: All About Eve, Splendor in the Grass, and Death of a Scoundrel.
But for our purposes, it is famous because President William Howard Taft resided here for eight years following his Presidency from 1913-1921, where he taught Law at nearby Yale University – until he became the 10th Chief Justice of the United States. It also so happened that President Taft was present to speak at the first formal event in the grand ballroom of the hotel, a Chamber of Commerce dinner on January 19, 1912.
When my friend Bob and I visited New Haven, we simply swung by the hotel to get photos outside and did not enter the former hotel, which is now known as the Taft Apartments. Naturally, some construction precluded a clean picture.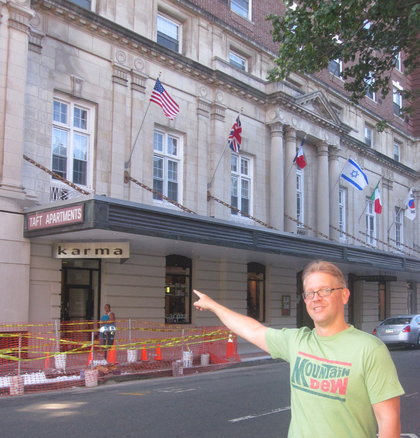 The Taft Apartments, formerly the Taft Hotel where the President resided while he taught at Yale
Sunday, March 22, 2015 – Grave of Alphonso  and Louisa Torrey Taft – During a stop at the Spring Grove Cemetery in Cincinnati, Ohio, I made it a point to check out the grave of the parents of President Taft. Only Alphonso's name appears on the front of the stone, but Louisa's name appears on the reverse, along with the names of the five children that Alphonso had with his first wife Fanny Phelps, and the names of the five that he had with Louisa. However the four youngest of the children so named (including the President) are not actually buried in the grave. Alphonso had a distinguished government career in his own right, having served as both United States Attorney General and Secretary of War.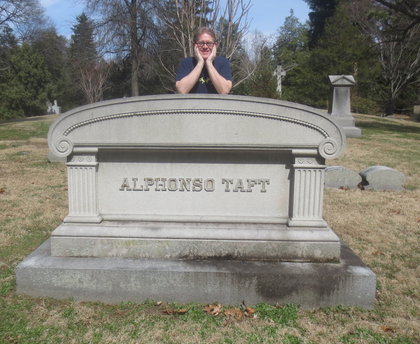 With President Taft's parents in Spring Grove
Saturday, August 11, 2007 – Grave of William Howard Taft – Although I came just a stone's throw from Taft's grave in the Summer of 1998, when our tour tram pointed out that his grave was 'just over there' while visiting Arlington National Cemetery, I really didn't visit the gravesite until Bob and I were on our 2007 Virginia road trip. I did get to see the JFK grave when I visited with Lisa and her family in 1998, but ridiculously, Taft's final resting place didn't merit a stop.
Taft's grave is closer to other Supreme Court Justices than it is to Kennedy's, which is fitting since that job meant much more to him than being President. He has a tasteful and impressive monument, with small stones marking the spots in front of it where Taft and his wife are interred.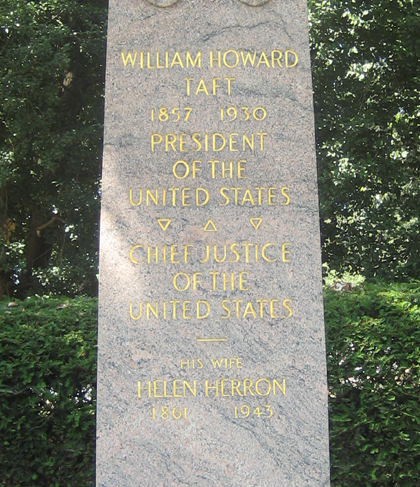 Close up of the inscription of the Taft marker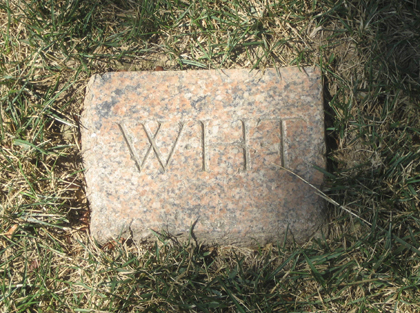 The stone indicating William Howard Taft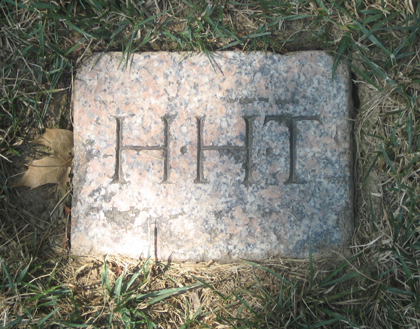 The stone indicating Helen "Nellie" Herron Taft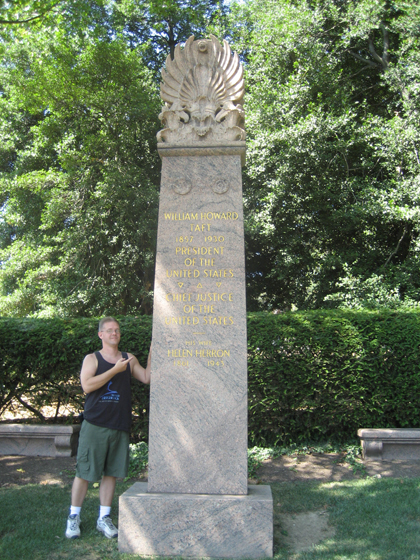 Me and William Howard Taft
Continue to the next President…
Return to Saturday in Ohio 1998… (under construction)
Return to Saturday in Virginia 2007…
Return to Sunday in Ohio 2008…