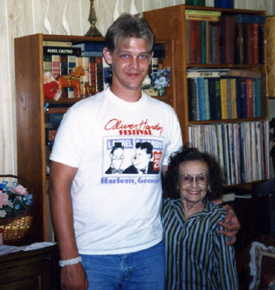 It's encounters like the one that I had with Olive Brasno that make me believe in fate. Had I not been browsing Bob's book The Munchkins of Oz by Steve Cox during my 1995 visit to California, and had I not then fortuitously met that same Steve Cox at the Hollywood Collectors Show that very same week, and finally had I not had a trip to Florida planned several weeks later, it is likely that I would have never crossed paths with Olive. As it was, I had the opportunity of a lifetime to meet an actress that I had long admired.
Olive was a midget, who along with her brother – also a midget – performed in Vaudeville during the 1930's. My interest with her was that she starred in two of the Our Gang films Shrimps for a Day (1934) and Arbor Day (1936) along with her brother George. Her role in Shrimps particularly delighted me so it was with a gleeful shreik that I saw a picture of her in Steve's book, posing with her husband Gus Wayne. Gus was one of the Munchkin soldiers in The Wizard of Oz. Olive herself had not appeared in Oz as she and her brother were making far too much money in Vaudeville to travel to California for such a 'tiny' role.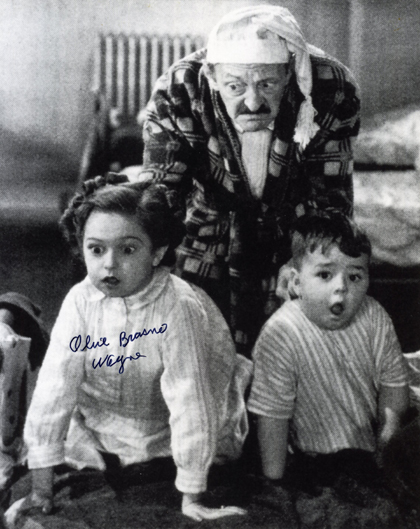 Olive in Shrimps for a Day. I did not actually get this photo signed until two years later.
So the first words that came out of my mouth when I met Steve was "So what has become of Olive Brasno?" He was thrilled that I knew who Olive was, so he told me that she was residing in Lakeland, Florida. Then I mentioned that I would soom be taking a trip to Florida – and then checked and found that Lakeland was right on the way between Orlando and Clearwater. The rest, as they say, was history.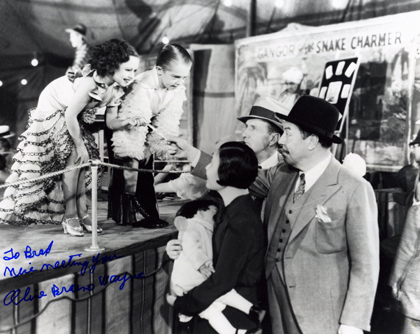 Steve sent along some photos from Charlie Chan at the Circus to have Olive sign. They were very dark – so I was thrilled when she gave me this crisp photo and signed it to me.
I contacted Olive a couple of weeks before we left and she agreed to allow me to visit. When the time came on Wednesday, August 2, 1995, and we remarkably maneuvered to the nice moblie home park in which she was living, I was surprised to see that she was even tinier than I had a anticipated. Lisa and I offered to take her out to the lunch of her choice. She picked a run-down cafeteria and consumed exactly one-half of a hotdog. She also insisted on riding in the back seat of our car, which even at the age of 77, she deftly maneuvered.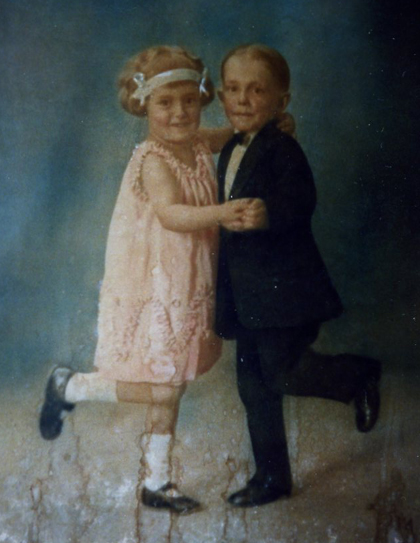 I took the picture above and below of photos hanging on her wall. Above is Olive and her brother George as children.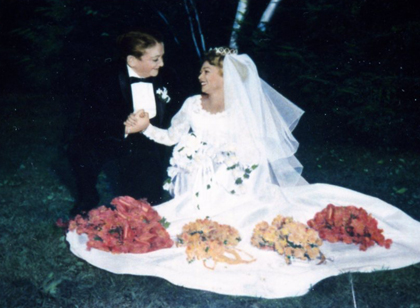 Gus Wayne and Olive Brasno's wedding photo
I did a short interview with her, which I subsequently published in my Dante's Info #15 during the Winter of 1996 (I held the story for over six months!). Mostly, Olive was very surprised that we were more interested in her career as opposed to her husband's (who was still living at the time in a nearby nursing home). It took some coaxing to get her to sign her autographs with her maiden name as she would usually sign photos of her husband at Wizard of Oz festivals as Mrs. Gus Wayne.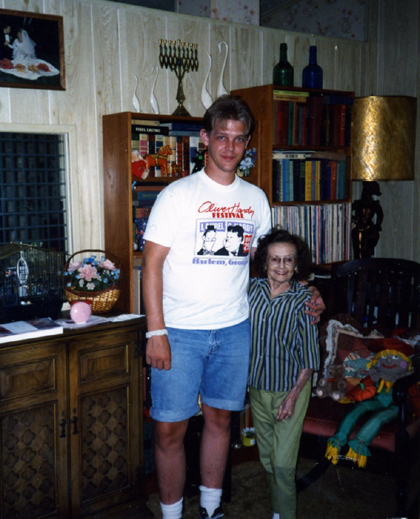 Olive absolutely insisted that we not crouch down to take photos with her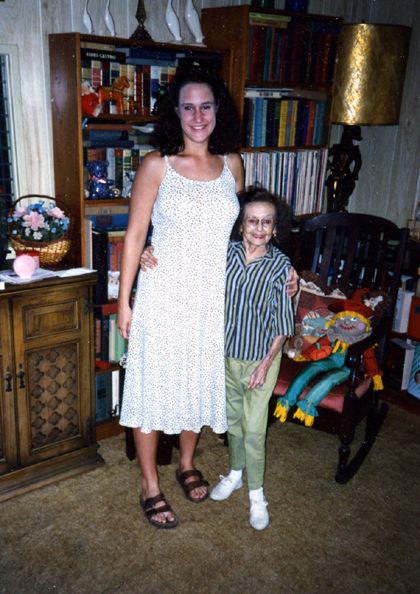 Proud of her stature, Olive poses with Lisa
Amazingly enough, I actually did meet up with Olive again two years later, not long before her death in January of 1998 at a Wizard of Oz festival…but that is a story for another time.
Return to the Florida trip…
Continue on to our meeting with Karl Slover…
See the Brasnos final resting place here…