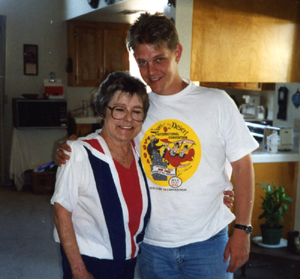 I got the bee in my bonnet to track down Janet Burston way back in 1992 when my friend Dick Bann told me that he had nearly uncovered her whereabouts – his information indicated that she was working in a Denny's restaurant in Fresno. He had no desire to contact her, but offered to pass on her phone number for me. By the time I followed up with him and tried to call her, the line he gave me had been disconnected. Flash forward to 1994 when I met Bill Cappello. He had already provided the whereabouts for both Harry Spear and Beverly Crane, when I asked him to see what he could find out about Janet Burston.
Janet Burston, for the record, was one of the last members of the Our Gang / Little Rascals comedies to be inducted into the series. She only worked at M-G-M during the 1940's, acting somewhat as the female lead after Darla Hood retired from the series. In all, she appeared in 16 of the final films of the series including the very last short Tale of a Dog in 1944. In addition, she starred in two of the famous Blondie films. The general consensus was that she wasn't very good, obnoxiously over-acting in all of her scenes. To me, though, it made no difference. She was a vital piece of Our Gang history.
It didn't take Bill long to come back with an answer. Janet was indeed living in Fresno, now known as Janet Foy, her fourth married name! When I first called Janet, she was suffering from a broken leg and a little 'out-of-it' due to her pain medication. She sounded as if she may have been talking to me from a seedy, run-down trailer park amidst the stench of cigarette smoke. But I persisted and called yet again. During our second conversation, she really opened up to me. She allowed me to interview her about her life and her days with Our Gang, and during our many chats we ended up becoming fast friends. One day she called while my Mom was visiting me at the Woodman Park Apartment and she ended up chatting with my Mom as well!
Fresno is nowhere near San Bernardino where Bob lives – as any map will show you. In order to get to see Janet during my California trip of 1995, I had to convince Bob to make the six-hour drive to Fresno. He almost considering putting me on a plane to Fresno to protect 'his gas and his ass,' but in the end we took the journey by motorcar, leaving on Friday, June 30, stopping in Bakersfield to spend the night, and then continuing the journey on Saturday. I almost soiled my pants after we had nearly reached our destination and I discovered that I had left Janet's phone number – which I need to get final directions – back at Bob's. Fortunately she was in directory assistance.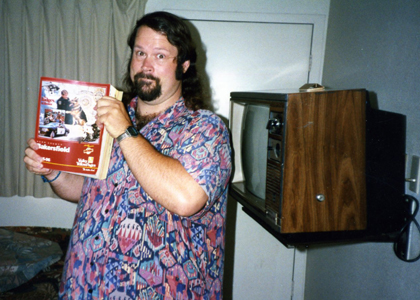 Bob's reaction to the Bakersfield phone book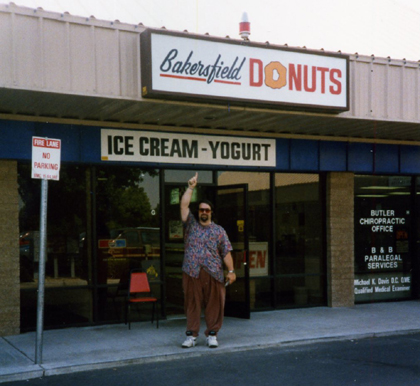 His mood improved when he found out they also had donuts
She was waiting on her porch when we pulled up. I told her "I'm Brad." She gave me a big hug and said "no kidding." We spent a few hours with her, taking her out to lunch at Denny's (a restaurant she confirmed that she did in fact once work for, but not at this particular one), snapping a few photos, going through her collection of photos, and having her sign 100 duplicate photos (no joke – I still have a good portion of them).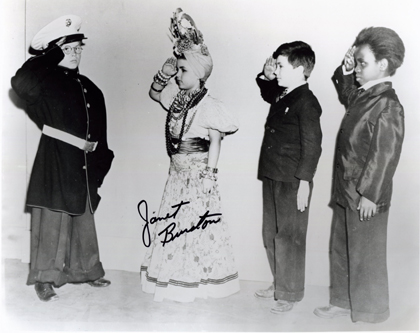 Froggy, Janet, Robert Blake, and Buckwheat in Calling All Kids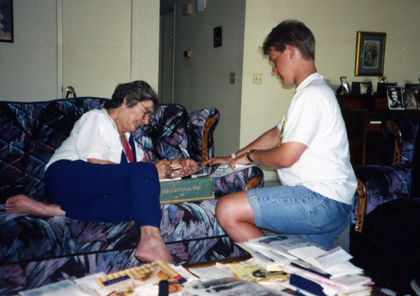 Janet signs 100 photos
It was a very nice and worthwhile visit, and as far as I know, we were the only fans ever to meet with Janet Burston. I subsequently published a nice article on Janet in my Dante's Info #13. Janet loaned me about 20 of her vintage photos, of which unfortunately, I did not save quality scans. I did however snap black and white photos of them, but they are too small to be of much value.
For some reason, I lost track of Janet for the next couple of years. When I returned to California in 1997, we were going to be traveling in her area and intended to look her up…but we found that her phone had been disconnected. I never found another good number for her. Amazingly, it was during a visit from Bob in the Summer of 1998 that I received a letter from Janet's daughter Donette, informing me that her Mom had passed away unexpectedly on March 3 of that year.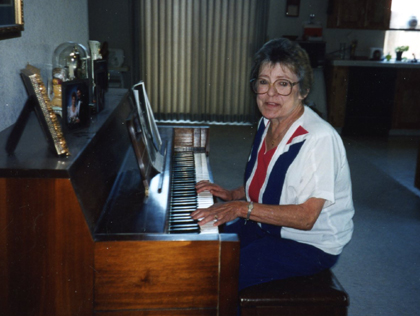 Janet poses at the piano
To this day I treasure the friendship I had with Janet Burston and relish knowing that I was really the only fan with whom she was ever close. And as for her 'lack of acting talent,' she once told me: "Oh, what a ham I was! But that's what the studio wanted…the hammier the better!"
This concludes the Hollywood '95 vacation. Up next: Meeting more stars back in Dayton…