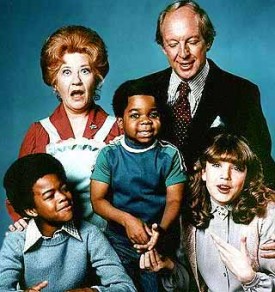 Yep, there were three of them altogether. It began when Mrs. Edna Garrett was assigned the task of cleaning the soiled underwear of Willis and Arnold Jackson in the first episode of the series. She lasted a full season and a half before moving on from the penthouse apartment of Diff'rent Strokes to the Eastland School for Girls on The Facts of Life. Then came Adelaide Brubaker. She was older than dirt when she took on the role for the next year and a half. Finally, Pearl Gallagher came to the rescue and remained with the Drummond family as long as they had a TV show and young Arnold managed to keep his lip shaved. Then, most likely, she slew them.
The actress who played Adelaide was Nedra Volz, and she passed away at the ripe old age of 94 in 2003. Charlotte Rae (Mrs. Garrett) and Mary Jo Catlett (Pearl) didn't die. They went on to do something infinitely better: meet me on the evening of Saturday, April 2, 2011. I don't know if it's a coincidence that these two former maids form the same TV show both starred in the S.T.A.G.E. (Southland Theatre Artists Goodwill Event) production of Original Cast 2 at the Luckman Fine Arts Complex in Los Angeles, or not. Neither did I care. All I know was that of all of the celebrities I met that day, there were none that excited me to meet as much as Charlotte Rae, who performed Ballad of Dependency from Threepenny Opera during the show.
Her star had reached clear back to another favorite sitcom, known as Car 54, Where Are You? in which she portrayed Sylvia Schnauser, wife of Leo (Al Lewis). As much as I love this show, it was Diff'rent Strokes and The Facts of Life that made Charlotte Rae famous.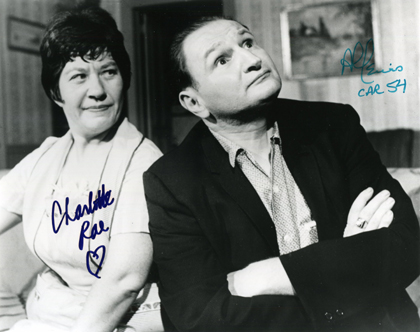 Although I already have the nice photo seen above, signed by Charlotte and Al, I could have kicked myself for not bringing along the Facts photo that I had recently purchased from co-star Mindy Cohn (seen here). Attempts to find any additional photos to have her sign were in vain.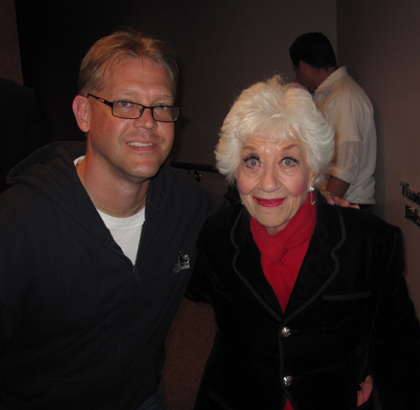 Likewise Mary Jo Catlett – who had performed a duet with Doug Carefrae of I'll Never Be Jealous Again from The Pajama Game. I couldn't find a single picture of her either. But it was still exciting nonetheless to get a photo with her as well.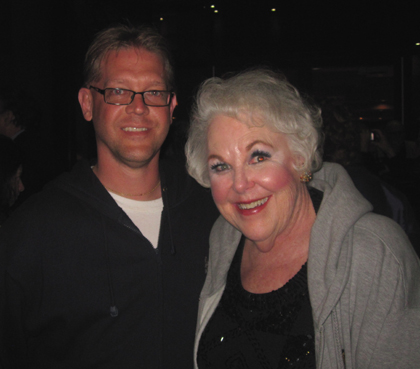 So although I didn't get autographs from these maid icons, it was such a pleasure and utter thrill to get to meet them and add photos of me with them to my growing collection. So who's your favorite maid? Afterall, the world don't move to the beat of just one drummer…
Celebrities of the Original Cast production will continue…