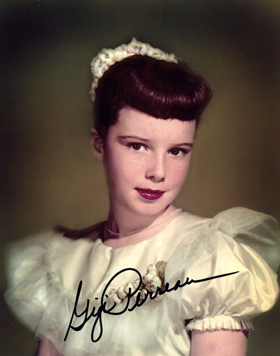 I've lately become a sucker for anyone from the golden age of Hollywood. So if I see that there is going to be a celebrity attending an autographs show and they have a scad of black and white photos on display on the show's website, then I'm inclined to research their history. Gigi Perreau, for example, did not have a name that I recognized – but I'm very grateful that I checked her out before attending the show. If I hadn't, I might not have realized that she played the key role of the orphan Shelly in Abbott and Costello's last film Dance With Me, Henry.
Nor would I have learned that she played the child of Bette Davis and Claude Rains in Mr. Skeffington. And although she only played minor roles in the TV sitcom The Betty Hutton Show and the dramatic series Follow the Sun, it was enough to garner her a Star on the Hollywood Walk of Fame for her work in Television. And let's not even think about forgetting that on The Brady Bunch she played Greg Brady's math teacher 'Linda', with whom Greg was so smitten that his grades began to suffer.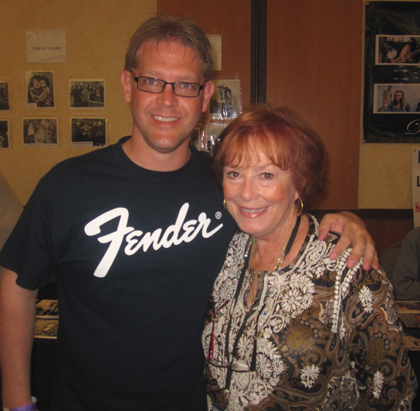 Needless to say, by the time I had learned about Gigi Perreau, I was pleased as punch to plunk down the $20 to pick up a signed photo of her and get a free picture taken with her when she appeared at the Hollywood Show on Saturday, April 2, 2011. She was a very nice lady. I guess Greg knew how to pick 'em.
Celebrities of the Spring 2011 Hollywood Show will continue…