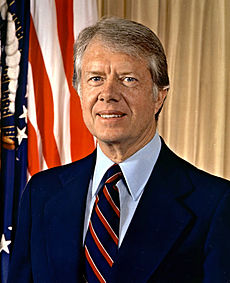 It is certainly true that Jimmy Carter doesn't typically rank among the top of the most popular or effective United States Presidents, but I'd have to say that Carter is certainly one of my favorites. It's easy to feel a connection to Jimmy and Rosalynn Carter because they are certainly the most down-to-earth and accessible of any of the living Presidents and First Ladies. And I truly believe that Carter has an integrity and value system unmatched by any President. I believe it is because of his idealism, honesty, and faith in the American people that he is generally regarded as one of the weakest Presidents.
Carter is known to get annoyed by those who say that he is a great ex-President, but a failure as the nation's leader. Afterall, he was an excellent peace negotiator and orchestrated the Camp David talks between Israel and Egypt, pursued the Panama Canal Treaties, and established the Department of Energy and Department of Education. But Carter didn't really begin to shine until he left office and established the Carter Center, a non-profit organization that works toward advancing human rights, conduct peace negotiations, and eradicate diseases.
The kinship I feel with this former peanut farmer and Georgia Governor who became President has a bit to do with the books I've read that he has written. But the biggest contributor is the sheer number of times that I've met him and the number of times I've visited Plains, Georgia – his birthplace and current hometown.
President Carter lived in Plains during three separate occasions of his life: 1) from his birth in 1924 until 1942. 2) From 1953-1970, following his father's death. During this period he worked as a farmer, businessman, and aspiring politician. 3) From 1981-present, following his Presidency. The one location that I have yet to visit, or even get a good picture of is the Carters' current home. It is heavily guarded with Secret Service housing in front of it.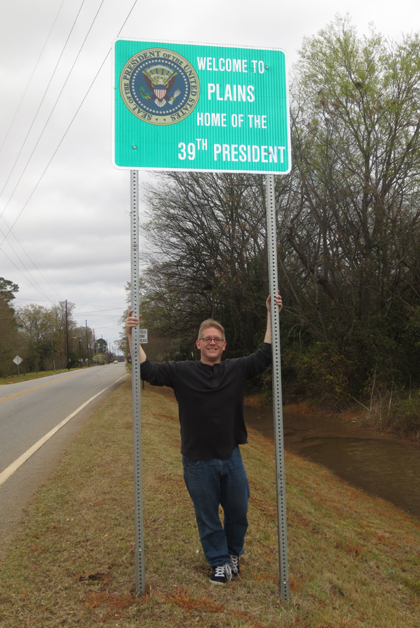 One of the city entrance signs – taken in 2013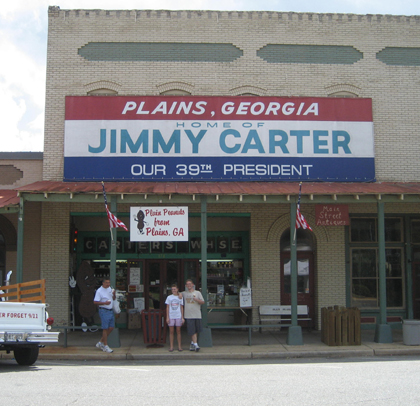 With Ashleigh on Main Street in 2007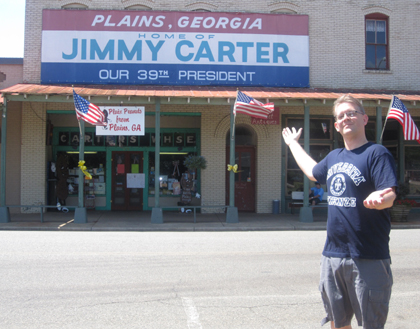 Back on Main Street in 2010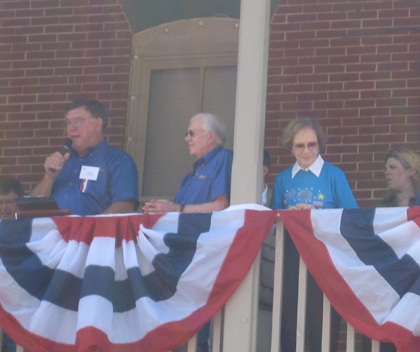 The Carters make an appearance on the balcony of the Plains Historic Inn for the Peanut Festival in 2006. I've stayed at the Inn three times.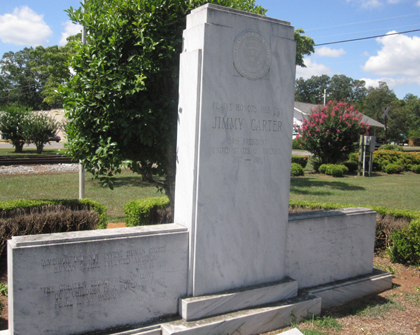 As if there weren't enough Carter sites in Plains, the good people of the town erected this monument in his honor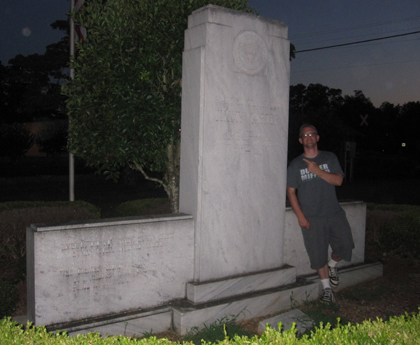 At the monument at night in 2010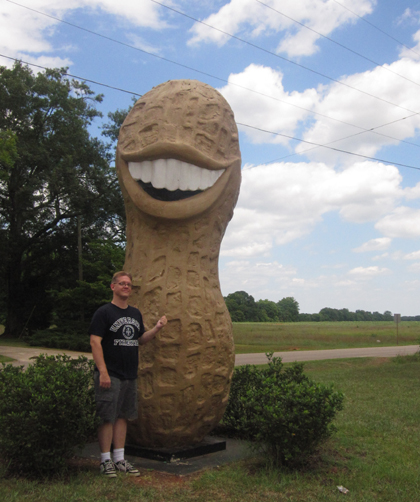 This giant peanut has haunted Jimmy Carter ever since it was erected in Evansville, Indiana, when Carter was doing a campaign appearance there in 1976. It was later transported to Plains, located at the depot, then the visitor center at the entrance to town, and now on Highway 45. The Carters now have to drive by it every time they head to church, but that doesn't mean he likes it.
On six occasions, I have seen President Carter teach Sunday School class at the Maranatha Baptist Church. I attended one of the Carters' book signings during the Peanut Festival and watched Carter play a game of softball with his wife Rosalynn sitting directly in front of us on the bleachers. Rosalynn also once came to our table to greet my uncle Bill, my Dad, and me as we had lunch at Mom's Kitchen in town. And I attended President Carter's 80th birthday party at the church, where a pianist from Las Vegas named David Osborne had flown in to entertain all present. So it is not hard to see why I feel a bit of a connection to Plains and the Carters.
There has been ample coverage of my visits to Plains and meetings with President Carter on the dates indicated below. Click on any of them to see futher info on these particular visits:
September 25-27, 2004 (met the Carters) (under construction)
July 8-9, 2006 (met the Carters)
July 10, 2006
September 22-24, 2006 (met the Carters)
September 22-23, 2007 (met the Carters)
July 3-4, 2010
March 23-24, 2013 (met the Carters)
September 28-29, 2013 (met the Carters)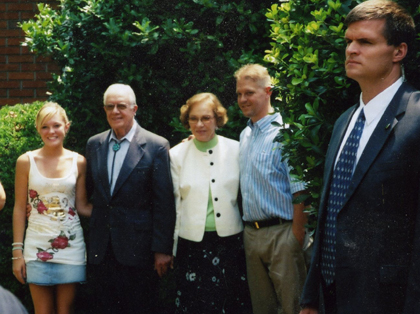 A Secret Service agent protects Ashleigh and me during a meeting with the Carters in 2006
Amongst these visits to Plains were many opportunities to see the homes and pertinent locations to the life of Jimmy Carter. When I am in Plains, I refer to it as a home-away-from-home as I've got familiar with many of the townspeople and the layout of the town.
Jimmy Carter Birthplace – Jimmy Carter was born on October 1, 1924 in the Wise Sanitarium, and was the first United States President to be born in a hospital. It was built in 1921 and was such an innovative hospital that it was known as the "Mayo Clinic of the South." It was one of the first small hospitals in the south to be acredited by the American Medical and Hospital Association…and in fact an accredited hospital to offer nurse training. Today the hospital is a nursing home named the Lillian G. Carter Nursing Center, after Jimmy's mother who did her nurses training here.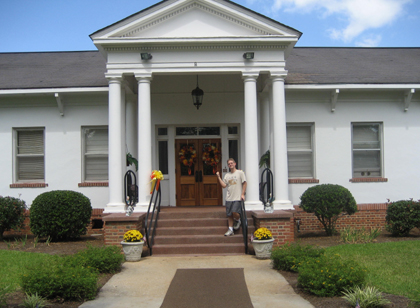 In front of the Lillian G. Carter Nursing Center in 2007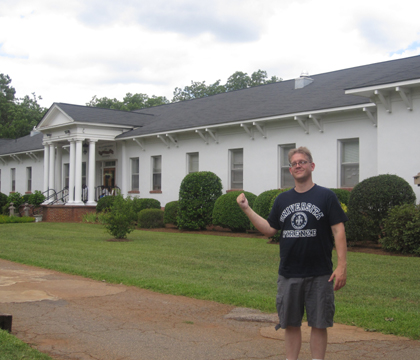 Visiting the hospital again in 2009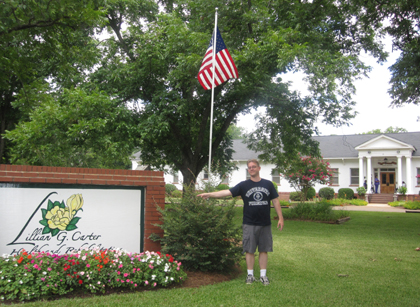 In front of the entrance sign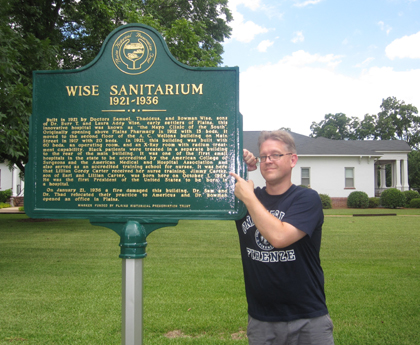 This historical marker was finally added within the last couple of years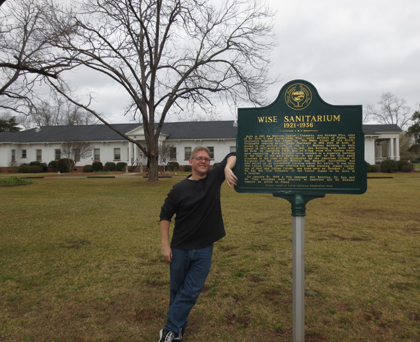 Another visit in 2013
Jimmy Carter Boyhood Home – This house located on a farm in the nearby town of Archery on Old Plains Highway was occupied by the Carter family from 1928-1949. Jimmy himself lived her for the first fourteen of those years. Jimmy's father, James Earl Sr., farmed the land and opened up a small commissary on the land. The placement of a tennis court made the Carters some of the more prominent citizens of the community.
The house was sold in 1949 and the owner kept it until 1994, at which time it was sold to the National Park System. It was restored back to its 1930 appearance with non-Carter owned period pieces furnishing the home.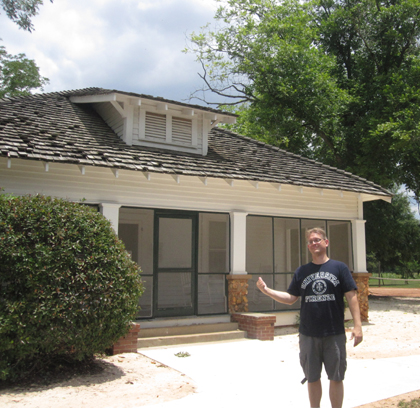 The house at the boyhood farm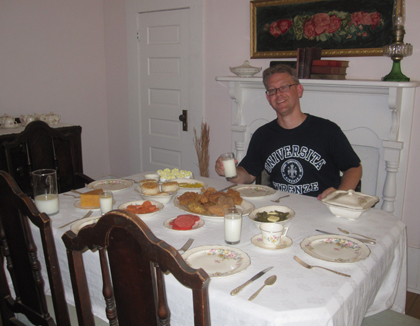 Making myself at home in the Carter kitchen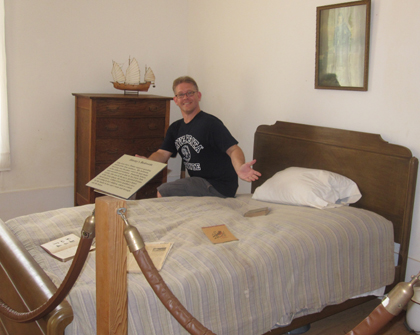 Crossing the barriers in Jimmy's bedroom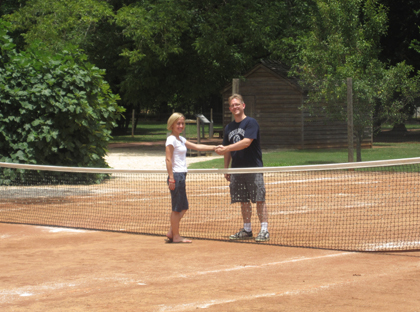 Congratulating Erin on her decisive victory on the Carter tennis court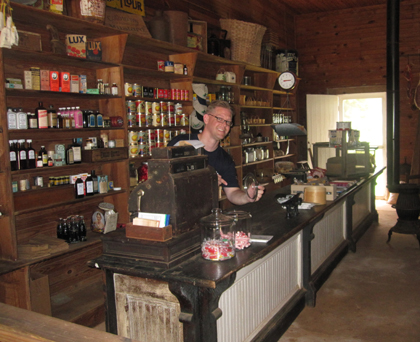 Selling goods in the Carter Commissary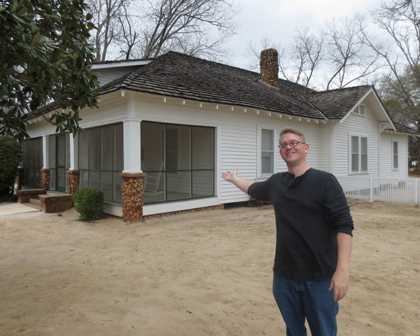 Another visit in 2013
Plains High School – The former grammar and high school that both Jimmy and Rosalynn Carter attended was transformed into a visitor center and museum following the graduation of the class of 1979. The museum re-creates a classroom from 1937 during Jimmy's seventh grade year. There are other political displays and of course, displays relating to the Carter family.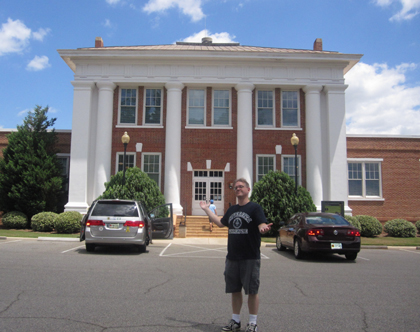 Outside the high school in 2010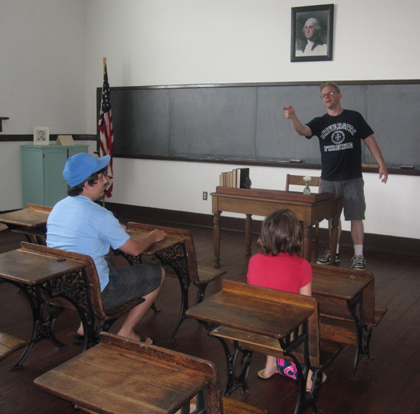 In the 1937 classroom of Miss Julia Coleman, one of Jimmy and Rosalynn Carter's favorite teachers. Rosalynn graduated as valedictorian in 1944. Here I'm scolding two misbehavers.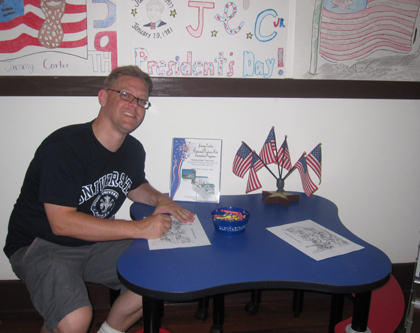 Playing at the kids corner in the high school
Jimmy Carter home (The Haunted House) – This creaky house on the Old lains Highway was rented by the Jimmy and Rosalynn Carter and their three sons from 1956 – 1961. Legendary ghost stories have inspired this location being dubbed as "The Haunted House."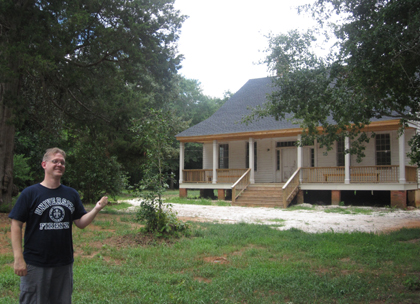 The Haunted House was fenced in and under construction, but I somehow wound up on the other side of it
The Plains Baptist Church – Jimmy and Rosalynn Carter attended this church up until they left for Washington D.C. in 1977. Jimmy had attended here as a boy with his family and had been baptized within the wall. Carter left this church over a dispute about the acceptance of black ministers and joined the Maranatha Baptist Church, where he still attends and teaches today.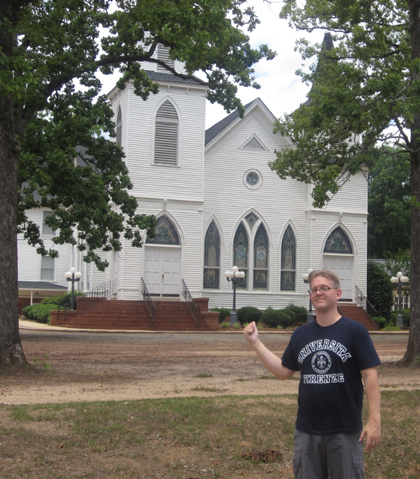 The Plains Baptist Church
Plains United Methodist Church – This was the church in which Rosalynn grew up and the site of the Carters wedding on July 7, 1946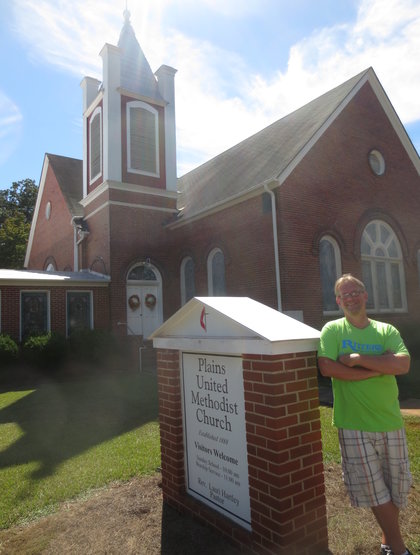 The Plains United Methodist Church in 2013
Jimmy Carter Campaign Headquarters – The Plains Depot was built in 1888, utilizing the railroad line to ship farm animals and product. This building was later utilized as Presidential hopeful Jimmy Carter's campaign headquarters. The building is now restored to its 1976 appearance. Inside is a great display of Carter artifacts and an entertaining video about Carter and his bid for the Presidency.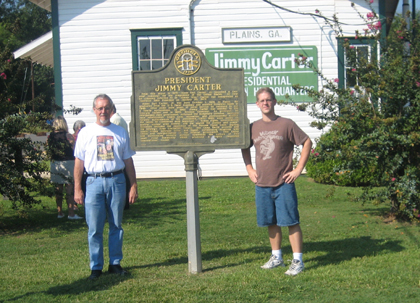 Dad and me at the headquarters in 2006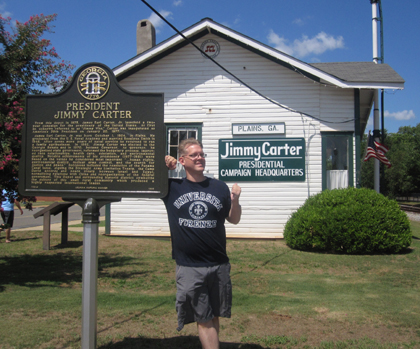 Back again in 2010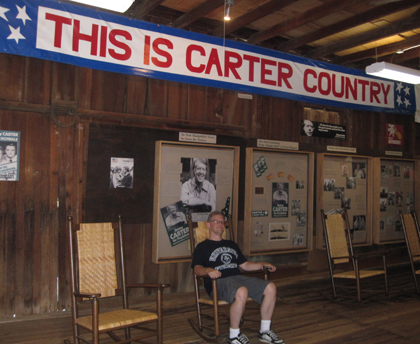 Taking a relaxing break inside the depot amidst the Carter relics
The Carter Family – There are numerous locations around Plains that relate to other members of the family of Jimmy Carter. Some of the more interesting ones are below: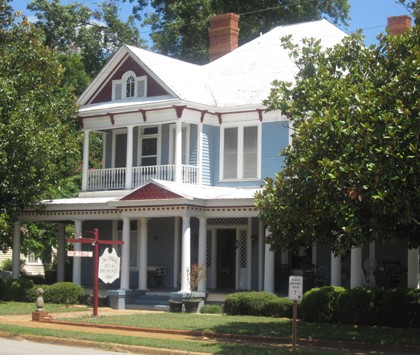 Jimmy's mother spent many of the final years of her life in the Plains Inn Bed & Breakfast. During my 2010 visit, the house was up for sale.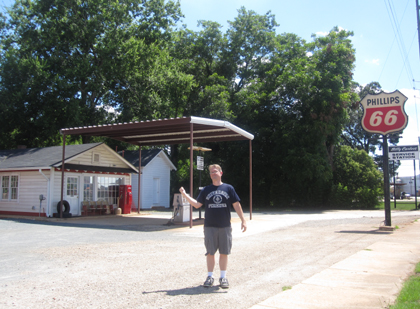 Jimmy Carter's brother Billy became well-known, perhaps notorious, for his lackadasical, bumpkin lifestyle. He owned and operated this Phillips 66 gas station form 1972 through 1981, right through his brother's Presidency.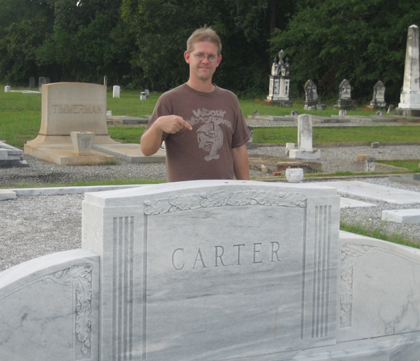 The Lebanon cemetery (seen here in 2006) is occupied by many members of the Carter family. The latest word from Jimmy Carter is that he will be buried on the property of his current home not far from here.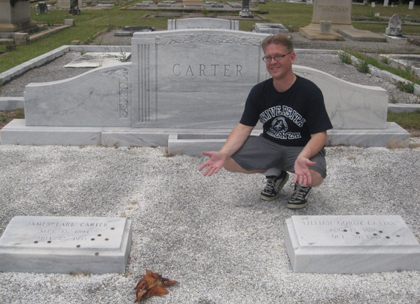 With the graves of Carter's parents James Earl Carter (1894-1953) and Lillian Gordy Carter (1898-1983) in 2010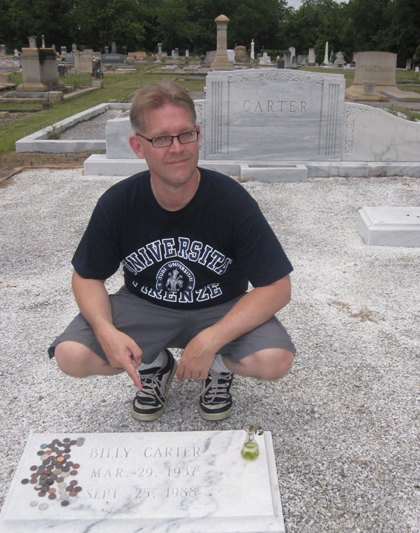 With the grave of Jimmy's brother Billy (1937-1988)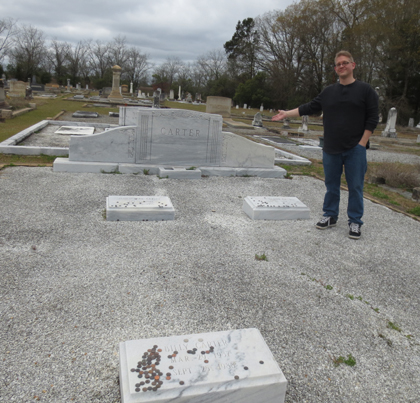 A cemetery visit in 2013
Saturday, July 8, 2006 / Wednesday, September 15, 2010 – Jimmy Carter Library and Museum – Jimmy Carter's Presidential Center which includes both the Library and Museum and the Carter Center was originally dedicated on the President's 62nd birthday on October 1, 1986. I visited this original Library in 2006 with my friend Bob and daughter Ashleigh, and although I enjoyed it, noted in my original posting (located here) that it was much less dynamic than the other two I had seen.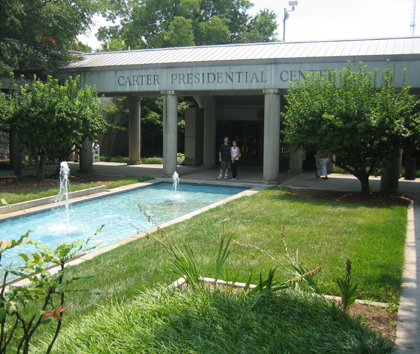 With Ashleigh at the Library in 2006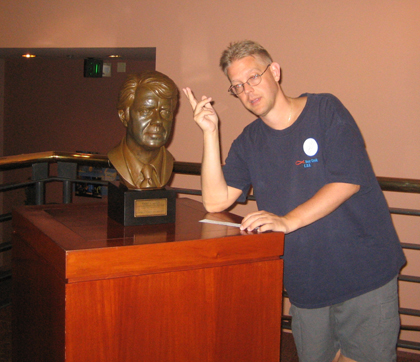 The Jimmy Carter Library or bust!
I didn't get the opportunity to re-visit the Jimmy Carter Library for four years, and by that time it had undergone a major remodel (completed, again, on his birthday in 2009) that included more dynamic displays, more of a concentration on Carter's post-Presidency years, and a new introductory movie. Since Ashleigh and I arrived not long before the museum closed, we didn't get to see the new movie, but enjoyed browsing the new exhibits. I think Carter's modesty still precludes keeping his Library a bit more humble, but there were several new items that were certainly fun to see.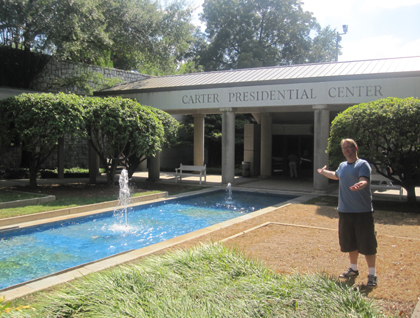 Entering the Library in 2010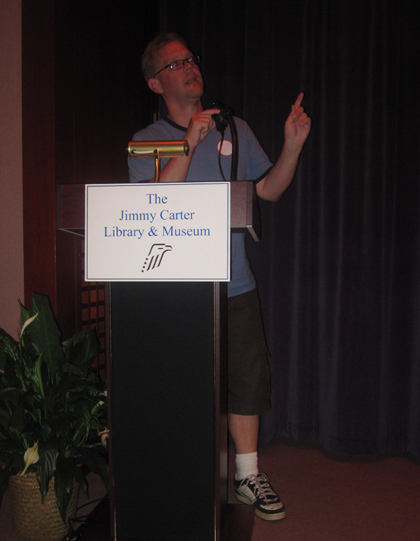 Giving a little speech in lieu of watching the movie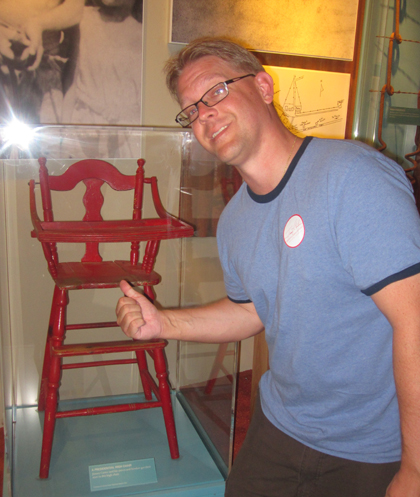 Jimmy Carter and his sisters and brother all used this high chair when they were toddlers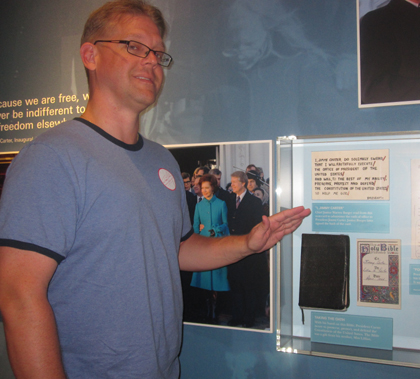 The high point of my visit to the museum was getting another Bible under my belt. Originally given to Jimmy by his mother, this Bible was used to swear the new President into office.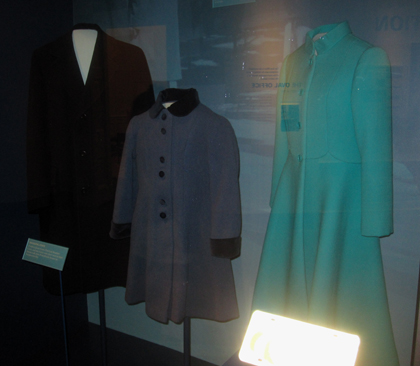 Coats worn by Jimmy, Amy, and Rosalynn Carter on Inauguration Day, as they took their famous walk down Pennsylvania Avenue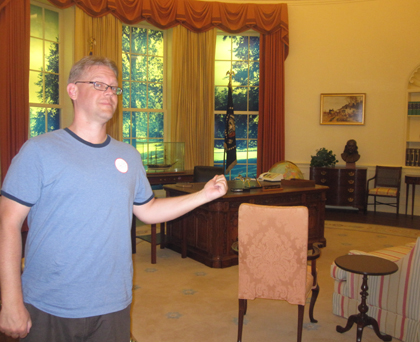 The standard Oval Office reproduction, in this case restored to the era of Jimmy Carter's Presidency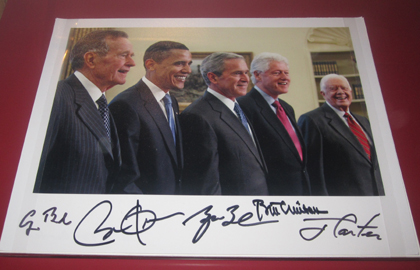 A mouth watering photo on display, signed by five Presidents. Shame on Jimmy for not writing out his whole first name.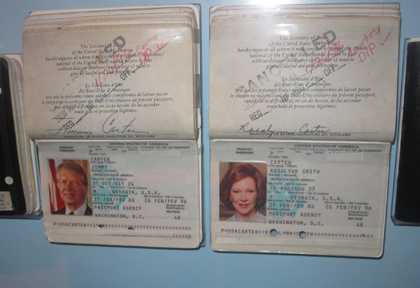 These were the Carters passports that represent 20 years of International travel on diplomatic and humanitarian missions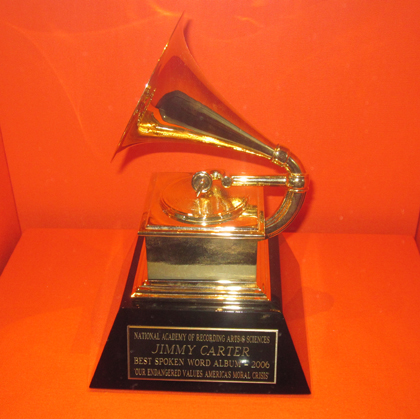 Jimmy Carter's Grammy award, presented to him in 2006 for the Best Spoken Word Album Our Endangered Values: America's Moral Crisis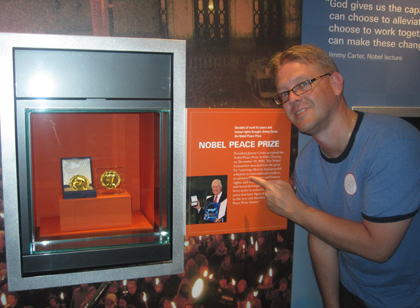 Another high point of the Library: Jimmy Carter's Nobel Peace Prize presented to him on December 10, 2002
It had been four years between visits the first time, and another four and half by the time I got back for the third time. Once again I was en route to Disney World – this time with my girlfriend – when we stopped by the museum so that she could see it for the first time. This time I did get to see the new movie and it was every bit as entertaining as the many other films I've seen pertaining to President Carter's life. It was great to revisit the museum for about 45 minutes and I recalled many of the exhibits from my previous visit.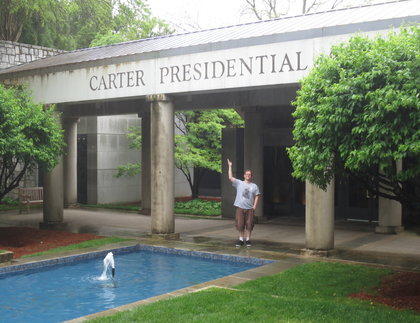 Back at the Carter Presidential Center in 2015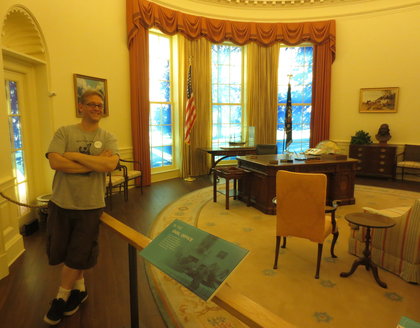 Another crack at checking out the Oval Office reproduction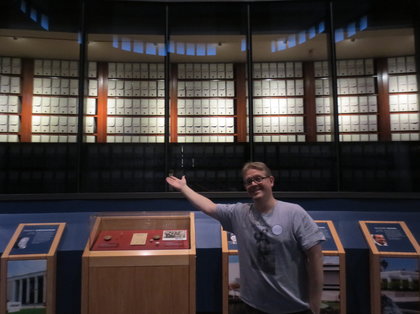 A neat view from the museum of the actual Carter papers found in the library section of the Presidential Library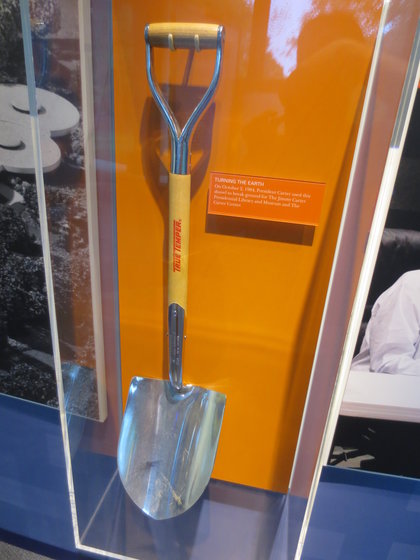 President Carter used this shovel to break ground for the Presidential Library and Carter Center on my 13th birthday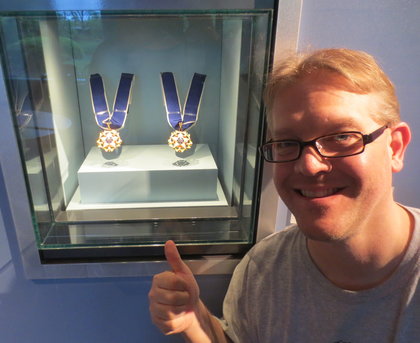 Jimmy and Rosalynn Carter's Presidential Medals of Freedom, awarded to them by President Bill Clinton in 1999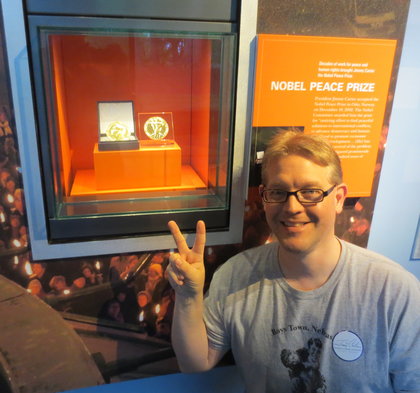 Re-visiting President Carter's Nobel Peace Prize that he was awarded in 2002
Continue to the next President…
Return to any of the visits to Plains below…
September 25-27, 2004 (under construction)
July 8-9, 2006
July 10, 2006
September 22-24, 2006
September 22-23, 2007
July 3-4, 2010
March 23-24, 2013
September 28-29, 2013 (under construction)
Return to Saturday 2006 in Atlanta here…
Return to Wednesday 2010 in Atlanta here…
Return to Friday 2015 in Atlanta here… (under construction)