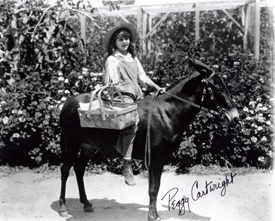 The 2000 Seattle Sons of the Desert Convention was not the first occasion I had to meet Peggy Cartwright, but it turns out that it was the last. I was previously THRILLED to meet her for the first time during my 1992 trip to California. At that time, she was somewhat of a 'missing' Our Gang member – and quite an important one at that. Although she only appeared in five of the early silent Our Gang comedies, she was credited for being in the very first one one simply entitled Our Gang in 1922.
Being from British Columbia, Canada, she had a delightful British accent, which surprised me the first time I met her, considering she was portraying the "All-American" leading lady. Peggy had appeared in two other huge films even before her Our Gang stint, Birth of a Nation and Intolerance. This was Peggy's only convention appearance and she passed away less than a year later.
The following three photos are obviously of Peggy with me and Denise – followed by a photo of Peggy with one of the authors (along with Leonard Maltin) of the definitive Our Gang book Our Gang: The Life and Times of the Little Rascals, and my pal Dick Bann. He asked me to snap this photo of him and Peggy since he didn't have one. Not sure if I ever actually ever gave it to him, but now its here for him to see! Denise and I were each having her sign the photo as seen above, the only shot I have of her from an Our Gang film. Here she sits atop one of the silent Gang's favorite pets, Dinah the Mule.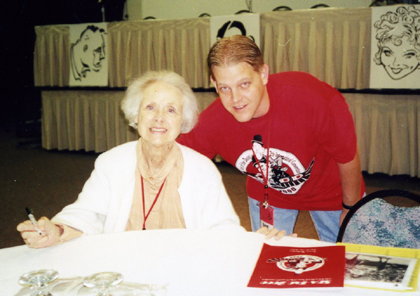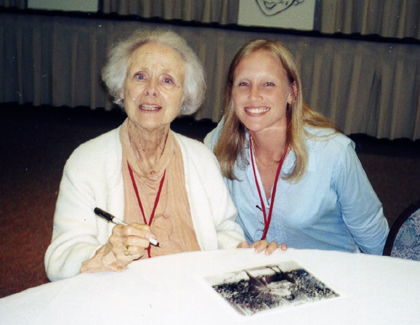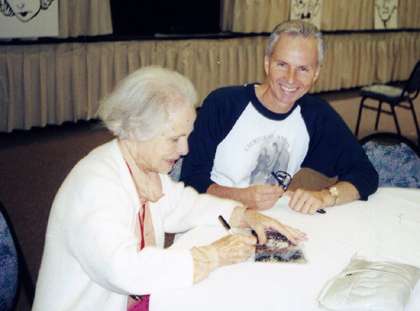 Next up: Dorothy deBorba and Edith Fellows in Seattle…