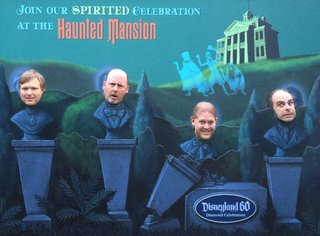 As we made it near the end of the first third of 2016 (which in itself, was hard to believe), there were some happy moments and some sad, painful, and irritating moments. Out of those irritating moments spring my desire to take a break and get away for a while. Not as if going to California was anything out of the norm, but I barreled forward with planning this trip even though Carolyn couldn't take off work for it. Frankly I had teetered with going, mostly due to high air travel costs and a relatively unimpressive Hollywood Show. But in the end, I found a pretty reasonably priced ticket that left out of Indianapolis, which was a first for me.
Friday, April 8, 2016, was my sister Denise's 40th birthday, but unfortunately with the trip I wasn't able to make the birthday party that she Aaron hosted for her in Westerville on Saturday. Instead I worked a half-day and left the office at noon and drove to the Indianapolis International Airport, which was about a two-hour journey. Even though I'd have to pay the $9 daily economy parking rate, I still saved the ticket, and perhaps even more importantly was able to get a direct flight that left Indy at 4:15 and arrived at LAX at 5:51. It was rainy and cold when I arrived, but thankfully I parked right near a shuttle pick-up spot and boarded it almost immediately. The flight was without incident, and I even ended up to a seat with an empty seat between me, and a black pipsqueak man… which saved me from sitting next to the nosering man.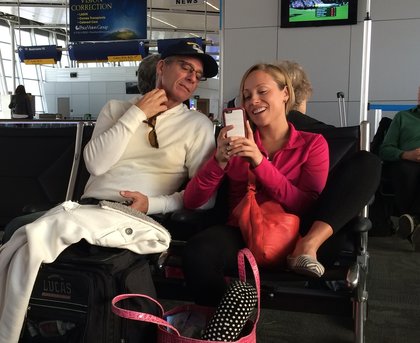 At first I thought this guy at the Indy airport might be Bob Saget. Then I merely became obsessed with knowing what these gum-chewing geezer was doing with this young cutie.
Jimmy picked me up on the curb at the airport. He was running late so I had to wait about twenty minutes, and then once he pulled up and I walked up to put my stuff in the car, he pulled away. No, it wasn't an elaborate joke; he simply hadn't actually seen me… just thought he had. Hmmm.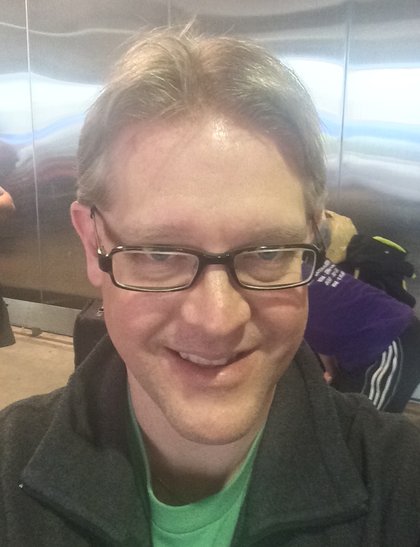 Arrival selfie at LAX
Eventually I got in his car and we got on the road and headed to David's house in Burbank. We didn't wait around long before the three of us headed out to eat at a nearby British pub called The Buchanan Arms around 7:45, where I enjoyed the Scotch egg, a hardboiled egg surrounded by ground pork. After dinner we made a stop at Yogurtland for some delicious dessert. Jimmy hung out at David's for a while and then headed home.
Scotch Egg anyone?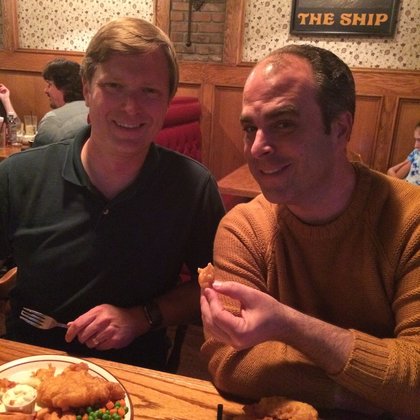 My fishy friends Jimmy and David
Saturday the 9th was the first day of the Hollywood Show. David and I got up and ready at a decent hour and then stopped off for breakfast at Phillipe's. It was a little early for a French Dip, so I just went with a bacon, egg, and cheese sandwich, corn beef hash, and of course a pickled egg. Then we headed out to the Westin for the Hollywood Show, arriving around 11am an hour after it opened.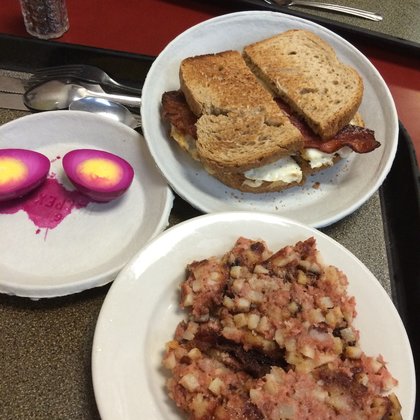 How about some breakfast?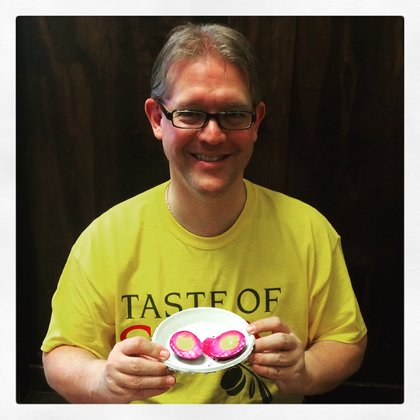 Pickled egg anyone?
This particular show was by no means a barn-buster, but it had a few great names and a fair share of pleasant names. One of the celebs who cancelled early was Demond Wilson, which was troubling because he was also scheduled to be a the upcoming Chiller. I didn't care where I got as long as I got him, but this wasn't very encouraging. Other names on my list who cancelled were Teresa Ganzel, Julie Cobb, and with a no-show, Jason James Richter. On the 'Sunday Only' front were Celeste Yarnell and the very frustrating Mena Suvari, who almost convinced me to go back on Sunday… but ultimately I didn't. And I saw a note on Cindy Pickett's table that "Mr. Bueller" aka Lyman Ward would be making an appearance on Sunday as well. Aaargh! Overall it was a very pleasant, laid back show, and for the most part I only spend an average of $20 per person, some less, and a few more.
Even the list of celebs I had met before wasn't as large as normal (indicating a heftier group of people I needed/wanted): Tommy Kirk, Marya Small, George Wendt, Samantha Fox, Leif Garrett, Tatum O'Neal, Kristy McNichol, Nikki Ziering, Henry Winkler, Marion Ross, Joe Dallesandro, Pamelyn Ferdin, Billy Mumy, Marta Kristen, Angela Cartwright, Paige O'Hara, Anna Maria Alberghetti, Cindy Pickett, Louise Fletcher, Femi Taylor, Brian Bonsall, Kim Richards, Michu, Jacqueline Scott, Paris Themmen, and Larry Thomas. Cancelling from this list were Nicholas Brendon and Shirley Knight. I should note that this was Michu's last appearance as he passed away just two months later. I almost picked up an additional autograph, but his prices had raised to $20. I kind of wish I had, but I am glad that I at least talked with him for a bit.
Also at the show I saw friends Bob (who passed on meeting up with us at Disney that night due to the threat of rain), Michael Stern (whom David and I had seen on the morning news before coming to the show, highlighting a picture of him and his sister for 'sibling day'), Steve Cox (who passed on some photos for me to get signed for him at Chiller), and actors Scott Schwartz and Keith Coogan, who were working the crowd as is typical.
It was only waiting around for the one sole professional photo op that I had to get (no choice in the matter if I wanted this actor), so it wasn't until 4:30pm that we were able to leave for Disneyland. Jimmy had spent the afternoon with our pal Rick Greene, and they headed out a little before we did and waited for us to arrive. We ended up getting to the Happiest Place on Earth around 5:45. Thinking it might be cold and rainy, I brought a sweatshirt and umbrella, ensuring that it never rained and got way too hot for a sweatshirt. From the parking garage, we could see the vast area under construction for the new Star Wars land that came at the expense of the Big Thunder Ranch area.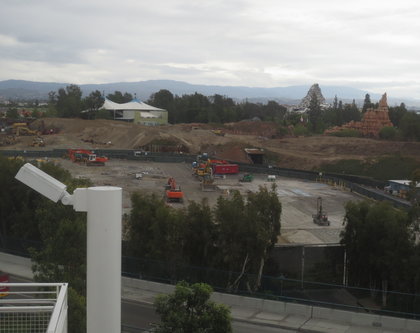 Stars Wars land construction as seen from the parking garage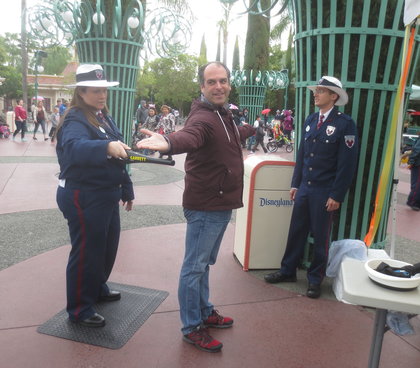 David is hounded by the guards for being too metallic
The first order of business was to eat, and we did so at the Jolly Holiday Bakery Restaurant. Their menu had changed and I wound up with the Roast Beef and Cheddar sandwich, and I picked up a Mickey Macaron, mostly for the photo op, but also because it was big enough to share and was quite delicious.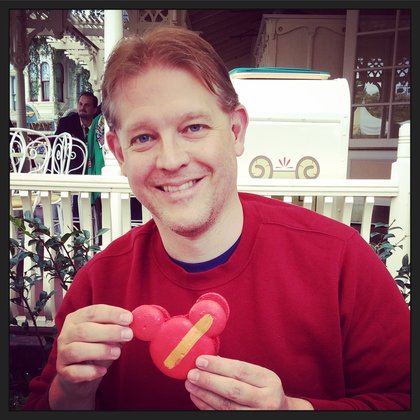 M-I-C-K-E-Y… why? Because we love macarons!
The first ride we hit was of course The Haunted Mansion. This was the first time that I was able to see the new Hatbox Ghost in his 'natural' surroundings, meaning that the ride was restored back to normal vs. the Nightmare Before Christmas decor that I had seen during my last visit. Naturally The Pirates of the Caribbean next door was the next ride.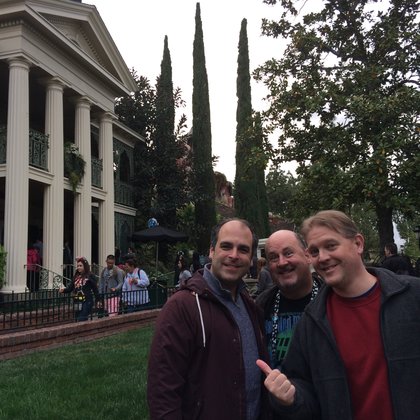 Some haunted thrills with my pals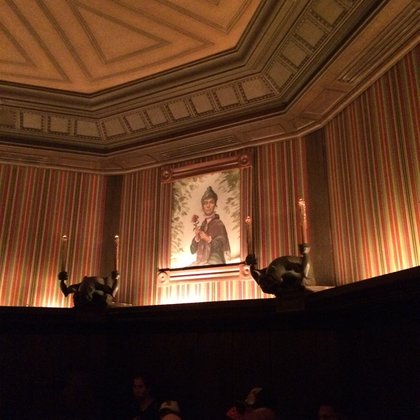 Once you see this, you know you're going to have a great ten minutes coming up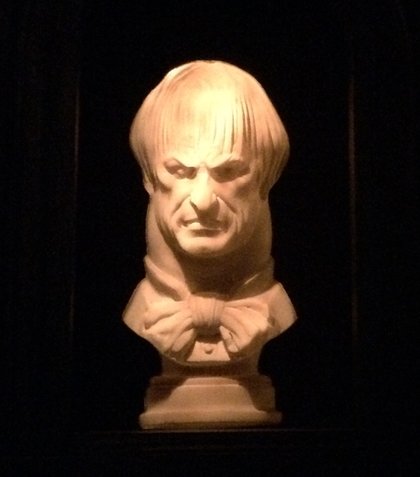 This bust is always staring at me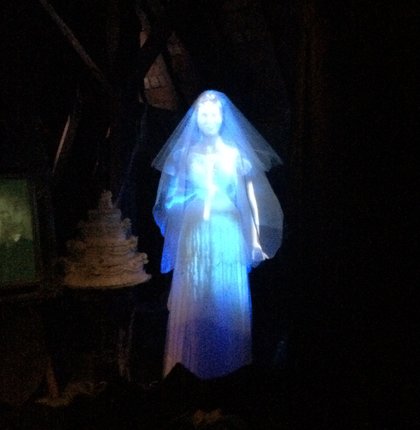 Scary bride. Aren't they all?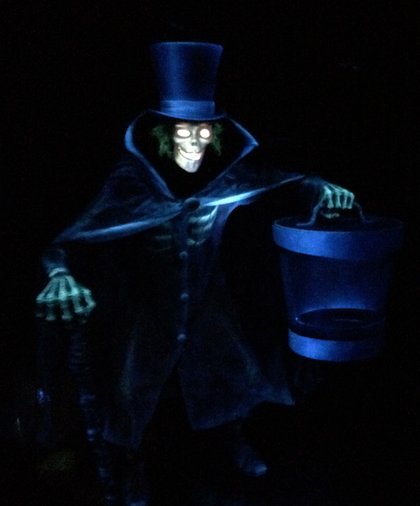 Perhaps the coolest thing that Disneyland has added in the last ten years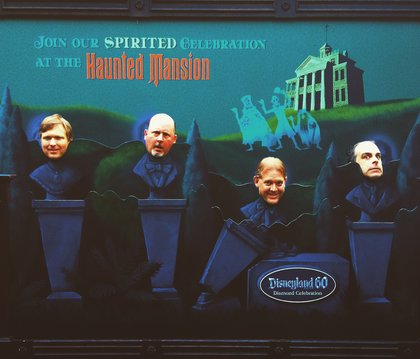 A motley crew of heads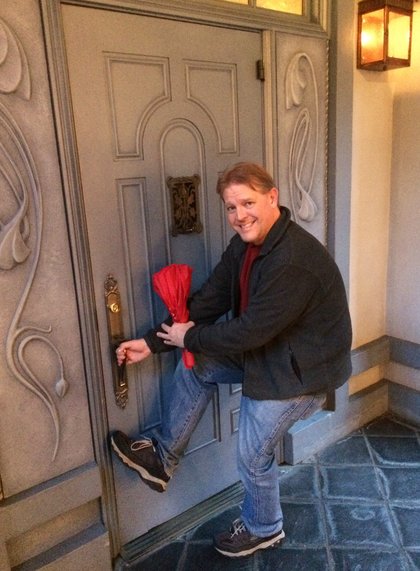 The new door for the remodeled Club 33. So far I haven't found a way to get any further than this. By the way, umbrella and jacket are not required.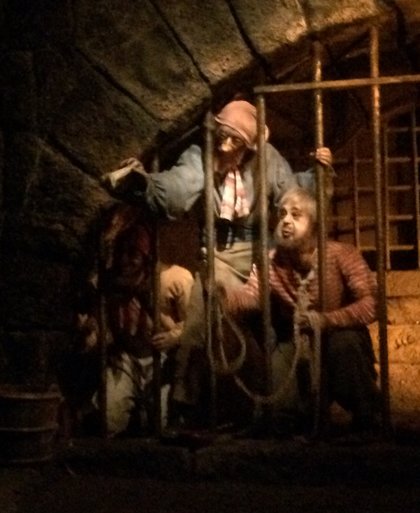 Carl and the boys 
The other ride I wanted to hit was Hyperspace Mountain, which was obviously the re-dressed Space Mountain, much in the vein of Ghost Galaxy, where instead of ghosts chasing you, spaceships projected on the walls pursued your ship. I actually thought it was quite cool. It took about an hour to get through this line, which brought us to 9pm. Next door to this ride was the theater where Captain EO had played, but now contained a glorified trailer for the Star Wars trilogy called Path of the Jedi. We saw it, but it was a complete waste of time and space.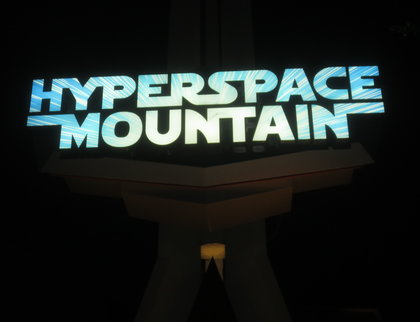 The new Space Mountain sign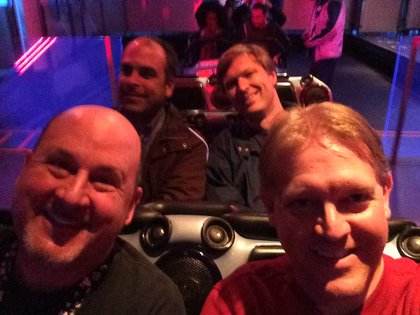 Ready for take-off. Who's the more foolish, the fool, or the fool who follows him?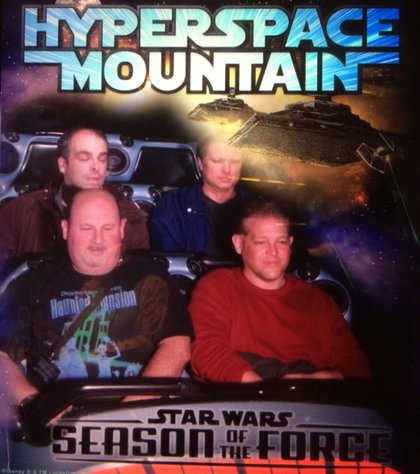 Clearly we are as excited as humanly possible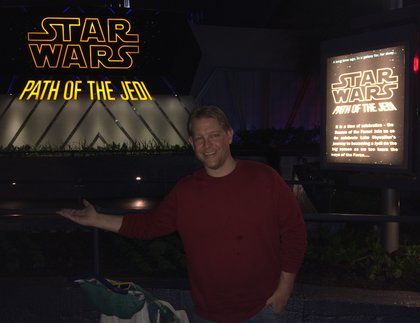 Path of the Jedi: Waste of the Time
We lined up for the Matterhorn Bobsleds around 9:30pm, and watched some of the fireworks going off at the time. I had heard that they had cushioned the seats a bit more to keep them from grinding into your spine during its bumpy ride. Rick agreed to ride it one last time, although he had sworn off it some time ago, in order to get one more look at the refurbished Abominable Snowman. He instantly regretted it, but I actually thought the cushions helped a bit.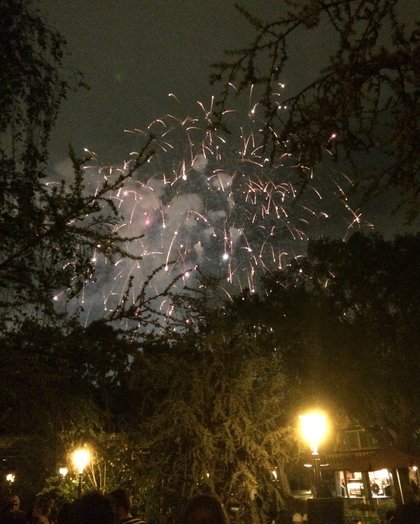 Fireworks over Matterhorn Mountain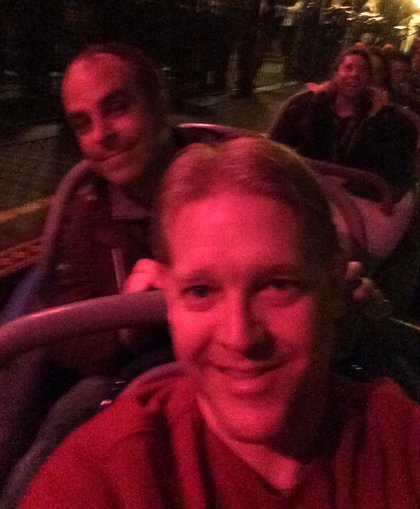 The bigger the cushion, the sweeter the Abominable Snowman
After we got off the ride, Rick and Jimmy took off for his house, where Rick would get his car and head home. David and I stayed around awhile to hit a few more rides, starting with it's a small world. By 10:30, we had gotten off that ride and lined up for Star Tours: The Adventure Continues, using the FastPasses we had picked up (Rick and Jimmy's would go unused). I knew that there were new scenes added to the mix on this ride, and I had hoped to see them. This now increases the possible combinations of this ride from 54 to 96. Our opening was the Probe Droid, and the final scene was the Coruscant Buzz Droids scene. But the middle two happened to be the two new scenes (or perhaps these were on constant rotation), the second scene a pursuit through Jakku following the Millenium Falcon with Finn on board, and the third scene a hologram transmission of BB-8.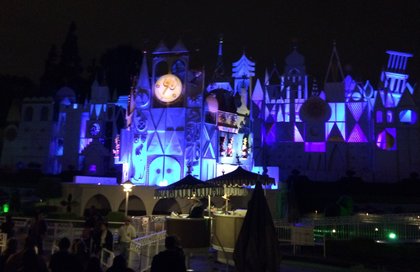 Small World always looks spectacular at Disneyland at night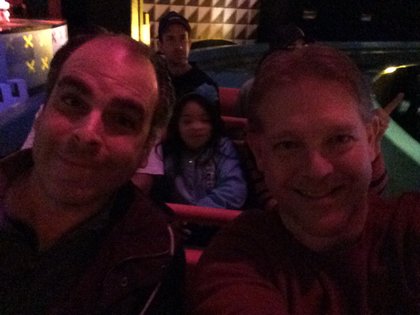 Gleeful boaters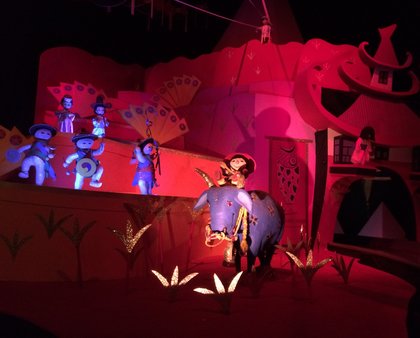 Typical Asian scenery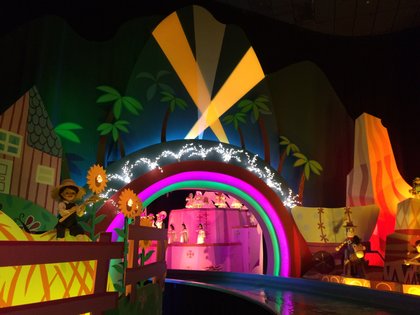 The relatively new Spirit of America room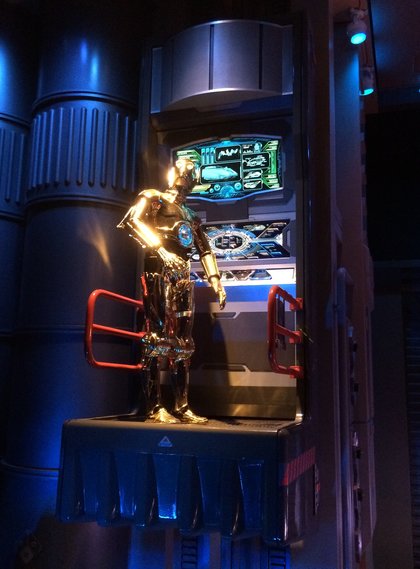 C3PO welcomes us to his ride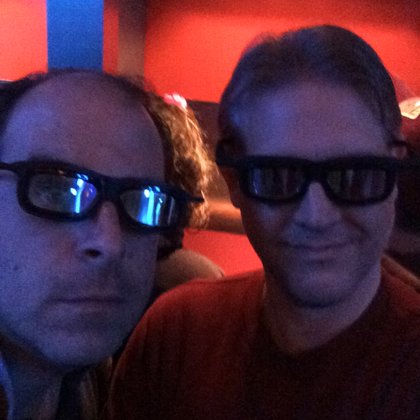 Ready to check out the new Star Wars scenes
We headed back over to Frontierland for our final ride of the night, which was about as anti-climactic as you can get. After waiting in line for Big Thunder Mountain Railroad, getting to the front of the line and actually boarding, the ride broke down and we had to exit. It wasn't the best way to end the night, but we had still had a fun time and planned to come back for a bit the next evening.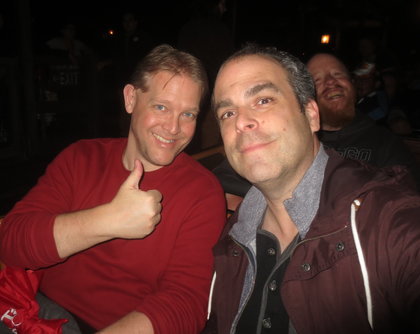 Big Thunder Mountain or bust. How about 'bust'?
It was nearly 11:30, when we left, 2:30am on my Ohio time, so I was dragging anyway. Thankfully it was David who was doing the driving. It sure didn't take long before my head hit the pillow that night back at his place. We still had two more day of amusement parks to do.
The Spring 2016 California trip will continue…
Bypass the California trip and continue with 2016 here…