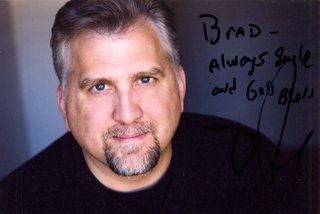 It seems like an old fashioned concept to those of us who aren't old enough to 'remember', but celebrities used to give away their autographs for free without question. Yes, I know many of them still do when they are hounded by fans out in public, after one of their shows or play or such. But I have become so accustomed to paying for autographs and even photo ops at these celebrity shows, that it becomes a beautiful treat when one of them is there just because they want to be, and will sign and pose for free. Dan Roebuck was one such person when I finally met him at the HorrorHound in Indianapolis on September 8, 2013.
I use the word 'finally' because Dan was actually on my list TWICE before at shows at which he was scheduled to appear. In both cases I was left disappointed because he was nowhere to be found. At this show, I think I found out why: he was mostly there as a fan, and most likely wandering around. This time I finally caught him at his table.
OK, it's true, he's not a huge star, but he was in fact on my list because he had had a pretty prominent recurring role in the TV series Lost as Leslie Artz, the science teacher who was killed off during the first season. Oh yeah, spoiler alert.
I went on to discover other roles of his that were pretty interesting, the most prominent (to me) being George & Leo, The King of Queens, Lois & Clark: The New Adventures of Superman, The West Wing, Malcolm in the Middle, Becker, Monk, Hot in Cleveland, Weeds, both Halloween reboots, and a very prominent role in Matlock. That in itself is a very impressive filmography, so you can see that he would have definitely been someone worth plunking down $20 for at least.
Making his appearance at the show even more impressive was that he even had small photos that he was handing out for free to sign (as seen at the top of the posting). I can't explain why Carolyn bypassed the chance for a free autograph and photo, but I can tell you that I was all about it.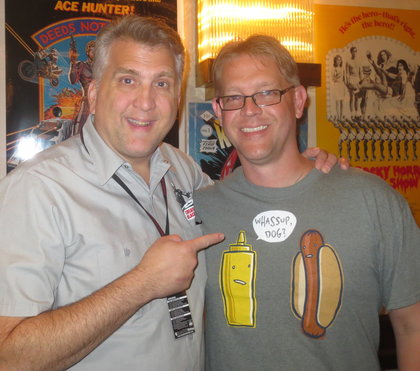 Now celebrities, take a cue from a class act like Daniel Roebuck. It will earn you a rave review on The Terrible Catsafterme for sure!
Celebrities of the Fall 2013 Indianapolis HorrorHound will continue…