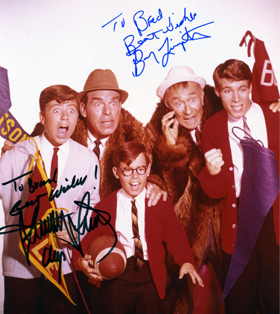 I could go on lamenting from now until doomsday about how few photos I had taken of me with various celebrities who attended the same Hollywood Collectors Shows as I did in both 1995 and 1997  – but it wouldn't change the fact that it remains exceptionally difficult to conjure up the facts of exactly who I met and when. Especially considering that I had obtained so many of their autographs before the shows that I often I would simply walk by them without acknowledging them, lest they attempt to sell me an autograph that I already owned. When it comes to some of the cast members from the TV show My Three Sons, I'm fairly certain that it went down like this:
Barry Livingston who played the part of Ernie Douglas in the show was the doing personal appearances in the early 1990's. During this time period, I had Bob pick me up the signed photo below at the low, low price of $5.00. Would you pay more?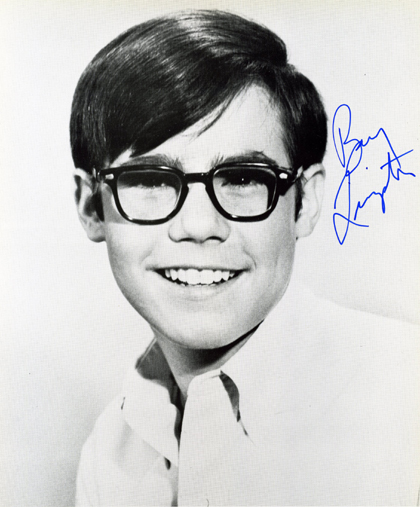 Then in 1995, I think that I ran into Barry Livingston at the Summer Hollywood Collectors Show, but didn't purchase an autograph, because like so many others that were there, I already had one. And so naturally I didn't have a photo taken with him either.
Later on, his brother Stanley Livingston who played Chip Douglas decided that he wasn't making enough moolah from his stained glass art and decided to appear at some of the shows as well. When he made his first appearance, I had Bob get me the cast photo shown at the top of the page, signed by both.
Then I got to meet both of the Livingston brothers at the 1997 Hollywood Collectors Show that I attended that Summer. At a later show, they brought along some photos that they had had their castmate Don Grady sign. He had played the role of Robbie Douglas. So naturally I had Bob pick me up one them too.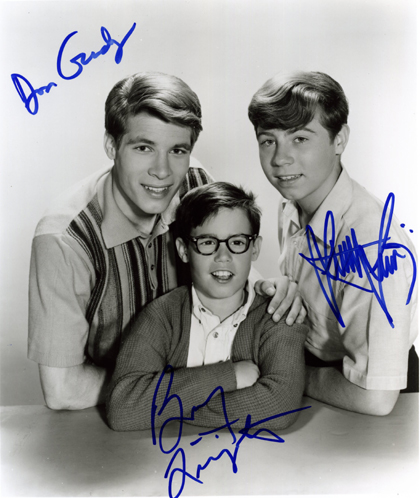 Finally…during the Hollywood Collectors Show in October of 2005 when I was making a mad dash to be photographed with every Tom, Dick, and Harry who happened to be a celebrity, the brothers Chip and Ernie were kind enough to allow me to pose for a photo with both of them. And thus endeth the tale of My Two Sons…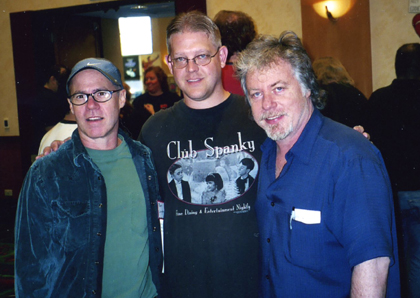 UPDATE: There's just something pretty cool about seeing these brothers together, so much so that it inspired me to get an updated picture with them when I ran into them again at the Chiller Theatre show on October 27, 2012. This time I didn't get off so lucky and they charged me $20 for the picture, but frankly, even though I was seven years older, I looked seven times better. So I was happy to have a much nicer photo with them to cherish.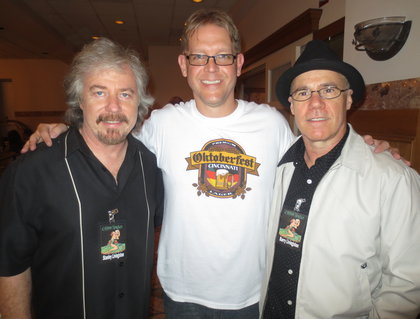 (Incidentally, we ran into them yet again on September 7 the following year and this time they posed for a picture with my girlfriend Carolyn for just $5 each. I guess she's prettier.)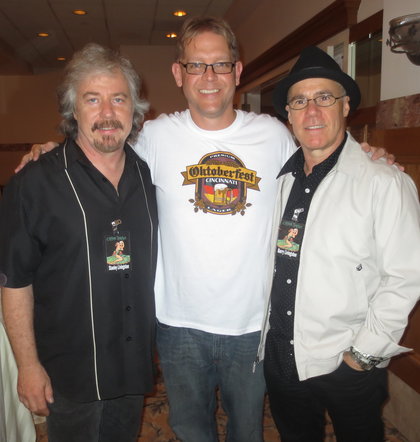 Celebrity encounters from the October 2005 Hollywood Collectors Show will continue…
Celebrity encounters from the Fall 2012 Chiller Theatre show will continue…