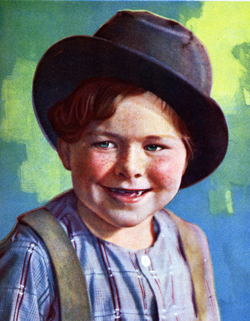 I've been anxious to get this tale told again. I, as one of only three known Our Gang buffs ever to talk to Harry Spear in person, often get asked the question "What's the deal with Harry Spear?" and its a big, long deal so I'll be glad to finally have a place to refer interested parties. The tale begins at the New York '94 Sons of the Desert where I first met Bill Cappello. We had many lively discussions with the theme "whatever became of…?" After finding out how great he was at tracking down long-lost celebrities, I immediately remarked, "you should try and find Harry Spear" to which he responded "I did!"
This excited me greatly because Harry was really the ONLY MAJOR Our Gang member (appearing in 31 of the films – both sound and silent) who had never been accounted for. Dick Bann and Leonard Maltin cited in their Our Gang: The Life and Times of the Little Rascals book that information on Harry ended way back in the 1950's when the Our Gang's former real-life teacher Fern Carter reported that the last she had heard of Harry he was working in a bank in San Pedro.
Bill had tried another approach to finding Harry Spear, by tracking the guardians who had signed his Hal Roach Studios contract: Louise Nolan, his mother, and Bertha Spear, his grandmother. From there, it was smooth sailing. Louise Nolan, which was her name after re-marriage, had had a child with Joseph Bonner on December 16, 1921. Thus their child's name was actually Harry Sherman Bonner. In the 1920 census, just before Harry's birth, all of these parties were living in the same household.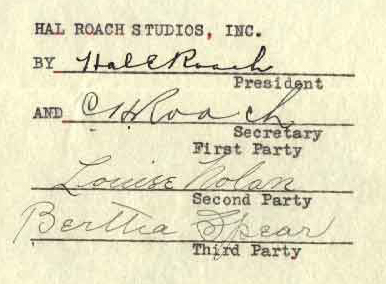 The signatures on Harry Spear's Hal Roach contract
This left only two remaining mysteries. The first was why Louise and Bertha chose to use the name "Harry Spear." Could the divorce between Louise and Joseph have been ultra-nasty and they refused to acknowledge the name "Bonner" during this time? That could be a likely scenario.
The second was: why did Harry Bonner refuse to acknowledge that he was one and the same with Harry Spear? They shared the same parents, the same birthday, and even the same eye color: blue. Furthermore, an interview by Bill with the Bonners' current neighbor Robert Drewett yielded the fact that Bonner's wife Thelma had confided in them that Harry was a former member of the Our Gang.
Which brings me to our visit with Harry. Thus far, he had answered no inquiries as to his association with Our Gang. Bob Satterfield, Steve Cox, and I hoped that a personal visit might prompt him to come clean. Boy, were we wrong! On Wednesday, June 28, 1995, the three of us headed to San Diego to pop in on Harry at his home. The first time we went there, we were greeted with a security gate blocking off the driveway. We almost gave up then and there. We headed over to the Hard Rock Cafe (my first one) and had lunch . We also ran into actor Hank Jones near the restaurant. He is the ex-husband of our friend Lori Jones. Then we made one our last-ditch effort and headed back to the Bonner residence.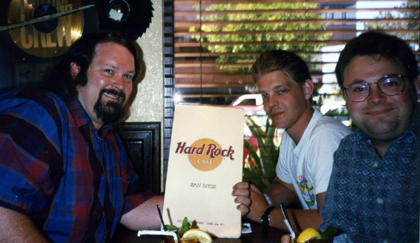 Bob, me, and Steve have lunch at the Hard Rock Cafe – my first in long string of Hard Rock visits – ready to pay a visit to Mr. Bonner
This time, the security gate and garage door were open. Inside the garage we spotted a variety of fishing paraphanalia, consistent with another fact that Bill had discovered about Harry. He had written several articles for various fishing magazines. We approached the door and rang the bell. We were there under the guise of personally inviting him to the next Way Out West Tent banquet. Harry himself answered the door but only spoke to us through a gold security screen, so we could see nothing but his silhouette. Bob did most of the talking and after he got through his entire spiel, Harry calmly said "I think you've got the wrong person."
He went on to explain that his Grandmother had taken in a youngster off the streets and that it was this kid who was in fact the guy that was in the Our Gang films. He had no idea whatever had become of him. We weren't professional inquisitors by any means, so we had no choice but to stand there dumbfounded staring at each other, making the briefest of small talk…and finally leaving. Once we were back in the car, I grasped at the last straw possible and suggested we ask for his autograph as the last living relative of Harry Spear. I was voted down. We knew that this was the right guy, but how could we force him to admit it?
In subsequent years, I tried sending him certified letters asking for him to sign a photo (which he returned unanswered – also certified!), I tried hinting that I would not expose his whereabouts if he would sign for me, and Bob tried offering him $1000 to sign some photos and give an interview.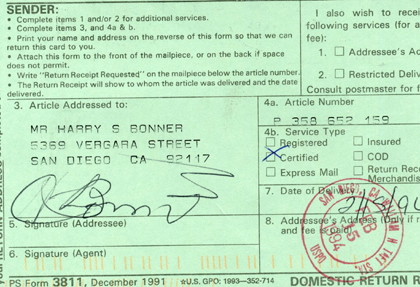 Bill Cappello's signed certified letter card
On September 22, 2006, the secret died along with Harry Bonner. He had escaped unscathed. His secret was never revealed to the world with any degree of certainty. I gave his wife Thelma time to mourn before trying to pounce on her. I sent her a very well-versed letter asking if she would now submit to an interview. I offered to meet with her during my February 2007 trip to California. She never answered.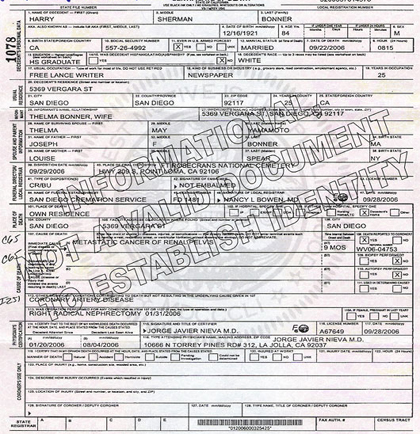 Info from Harry Bonner's death certificate, retrieved by Bill Cappello
It's hard to say just what had gotten into Harry Spear. From all accounts from his co-workers, he was not a very nice person. From accounts by his neighbor, he remained not-so-nice during his adult years. But it is still a crying shame that we never got the opportunity to really let Harry know how much his work was appreciated and pay him tribute while he was still around.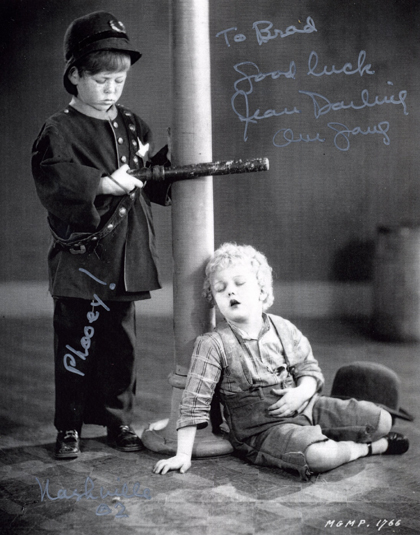 In 2002, I asked Jean Darling to comment on the photo of them together as to what she thought of Harry Spear. Note what she wrote on his pants.
My story is done. That's the truth, the whole truth, and nothing but the truth. And that's all I know.